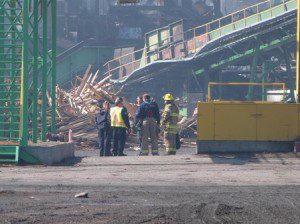 CLICK HERE TO VIEW EXPLOSION PHOTOS
At least five explosions linked to wood dust have rocked B.C. wood manufacturing plants since 2009.
None of the earlier explosions resulted in injuries, unlike the two fatal incidents that killed four workers at Lakeland Mills in Prince George and Babine Forest Products mill in Burns Lake this year.
It is not known if Work-SafeBC investigated or issued any warnings over the smaller incidents.
Those incidents should have sent a warning signal to safety regulators, industry leaders and the unions who advocate for worker safety, acknowledged United Steelworkers local 1-424 president Frank Everitt on Friday.
Everitt was surprised to hear about the string of small explosions, saying he is now doubly convinced of the need to quickly determine the causes of the two latest and most deadly incidents.
"Given what's happened, we have to conclude we should have done more … everybody in the industry," said Everitt.
He acknowledged there were more explosions "than anyone realized."
After the Lakeland explosion, the United Steelworkers head-quarters in Pittsburgh, Penn. ordered a list be compiled of all wood-dust explosions worldwide.
So far, no direct link has been made between explosions at the latest two sawmills and dust from the dry, pine beetle-killed timber milled at both sites.
But WorkSafeBC earlier this week ordered sawmills to investigate dust levels and other hazards, saying the review was urgently needed given the recent deaths.
A list of previous explosions compiled from news reports by The Vancouver Sun found:
. An explosion in January 2011 at Tolko's Soda Creek sawmill in Williams Lake was caused by dust in one of the mill's motor control centres. It created a fire in the walls that was hard to put out, said the Williams Lake fire department.
. An explosion in April of 2011 at Pinnacle Pellet in Arm-strong caused a fire that quickly spread into the basement and into the attic. The company also experienced an explosion at its Williams Lake plant in August 2009. That explosion was caused by a combination of air, dust and a spark, said the company.
Pellet plants use wood shavings and sawdust that are com-pressed into pellets, which are used to fire boilers that produce electricity and steam, or are burned in wood stoves for heat.
. An explosion ( continue reading … )
Source: Vancouver Sun
BY GORDON HOEKSTRA, VANCOUVER SUN