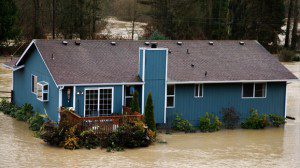 There are serious gas and electrical safety implications to consider if you are living or working in an area experiencing flooding. The BC Safety Authority (BCSA) reminds homeowners and businesses to take precautions with gas and electrical appliances when flooding is expected.
"Electrical equipment and gas appliances exposed to flood waters can be dangerous if they are re-energized and used without being properly inspected by a licensed contractor," says Greg Paddon, Director of Technical Programs for the BC Safety Authority.
"Moisture, debris and contaminants in flood-damaged equipment or appliances can sometimes be hidden and cause serious risks," adds Paddon.
If flooding is expected and time allows, do the following:
Have a licensed gas contractor remove gas equipment and systems.
Have a licensed gas contractor cap the gas pipe leading to appliances.
Remove electrical appliances.
Shut off the main gas and electrical supply.
Secure propane tanks to a stable structure to keep them from floating away.
If there is no advance warning of flooding or a licensed contractor is unavailable:
Shut off the main gas and electrical supply.
Ensure that all valves and power knobs on all appliances and systems are turned off.
Shut off the water leading to and from hot water tanks.
Secure propane tanks to a stable structure.
Extreme precautions must be taken when returning to a flood-damaged area.
If you smell natural or propane gas, leave the area immediately and call your gas utility. Natural and propane gas smell like rotten eggs.
If the main power and gas supply are still turned on, shut them off and do not step on a wet area if you must touch the main electrical panel.
Do not plug in or turn on any flood-damaged appliance or system. Call licensed gas and electrical contractors to do an inspection first.
Have a licensed gas contractor reconnect any gas system that was removed.
The British Columbia Safety Authority promotes the safe installation and use of technical equipment. We are a not-for-profit organization. As the Province's delegated authority, we administer safety standards, enforce compliance, issue permits and licenses, educate, and conduct assessments and onsite inspections – particularly in high-risk situations. We continuously advance the standard of safe practices in BC.
For more information about gas and electrical safety visit the BCSA web site at: http://www.safetyauthority.ca/safety-information/homeowners
Sign up to receive an email alert when BC Safety Authority news is released. Go to (http://www.safetyauthority.ca/user/register).
Contact Information
BC Safety Authority
Media Relations
778-396-2164
media@safetyauthority.ca
www.safetyauthority.ca