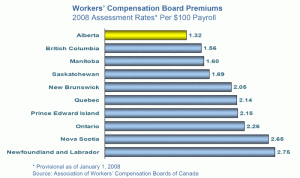 Written by  Linda Johnson
A recent study by the Canadian Federation of Independent Business aimed at evaluating the impact of the country's workers' compensation boards on small businesses ranked the Ontario and Quebec boards at the bottom.
To produce the comparative study, the small-business lobby group examined seven major criteria: cost of premiums, claims management, experience rating, classification and assessment, coverage, long-term fiscal sustainability, and customer service. The information was based on comparable data and rates available from the boards until the end of 2010.
Prince Edward Island's board received the top overall score (6.9 out of 10), followed by the boards of New Brunswick (6.4) and British Columbia (6.3). The Ontario and Quebec boards both scored 4.0.The Ontario Workplace Safety and Insurance Board (WSIB) did badly in part because of the federation's assessment of its long-term financial sustainability (0 out of 10) and its customer service (1 out of 10). At the same time, however, its figures show the province had the lowest frequency of lost-time claims (1.2 per cent), while 79.8 per cent of claimants had returned to work within 90 days of making their claim.
The study also includes a survey of small- and medium-business owners. Of survey respondents in Ontario, only 6.7 per cent ranked the board's ability to "understand my business needs" as good; between 16 and 18 per cent ranked the clarity, accuracy and consistency of the board's responses as good; and 10.2 per cent rated its "assistance for the back-to-work transition" for injured workers as good.
Spokesperson Christine Arnott says the WSIB welcomed the report and described it as valuable input. She says the board agreed that it — like all Canadian workers' compensation boards — has work to do to improve the way it delivers its programs and services.
"The WSIB is continually looking for ways to help small businesses, and this means working with organizations like CFIB to identify challenges and find solutions," she says.
"The WSIB plans to invite the CFIB to meet with senior management very soon to discuss their concerns and to provide them with details on the WSIB's strategic direction and plans for further improvement."
In 2011, she adds, the board introduced a suite of eServices, including eClearance, eRegistration and ePremium, to its website to improve customer service for small businesses by allowing them to access the services 24/7. The board plans to add more services, including an online payment system, this year.
Of Ontario respondents, 82.9 per cent said cost of premiums was the most important issue for the federation to target in its lobbying efforts, while 60.7 per cent pointed to claims management, including fraud and abuse.
Arnott notes, however, many of these issues were examined during a year-long WSIB Funding Review, begun in September 2010 and chaired by Harry Arthurs, a law and political science professor at York University. The review committee studied issues such as funding, experience rating, classification and premiums and did so in consultation with employers, workers and other stakeholders — including the CFIB.
"The WSIB looks forward to the Arthurs report and recommendations, which will be released early in 2012," she says.
As well, she adds, in accordance with provincial law that requires the board to conduct at least one review yearly of the cost, efficiency and effectiveness of one of its programs, the board's 2010 Value of Money Audit (VFMA) was conducted on the adjudication and claims administration (ACA) program. At the same time, the WSIB is undertaking several projects aimed at improving business practices and enhancing the accuracy and quality of decisions.
"Initiatives are now underway to act on the VFMA recommendations with a focus on improving decision making and earlier intervention to help people recover and return to work," she says.
The Quebec CSST was ranked poorly by the CFIB in several areas, including cost of premiums. Looking at rates in the five industries that contain the largest number of small businesses — trucking, machine shop, restaurants, landscaping and general stores — the federation found the CSST has some of the highest premium rates in the country. The Quebec board was also criticized for having high administration expenses, no online injury reporting option, no employer advocate among board members and the length of time (four years) required for employers to obtain experience rating.
Of Quebec respondents, 20.3 per cent judged the board's understanding of their business needs as good, while 21.5 per cent rated its assistance for back-to-work transition as good.
A spokesperson for the CSST said the board was not commenting on the CFIB survey.
Introducing the study, the federation says its research and survey should serve as guides for both government and boards to improve the workers' compensation system for small business. It hopes policymakers will use them "to identify and act upon changes that are in the best interest of small business owners and their employees."
To that end, the review includes a number of policy recommendations in each of the areas studied. These suggestions include developing a long-term plan to eliminate unfunded liabilities, working with companies to encourage early return to work and developing an employer fairness code.
Level playing field
The study also recommended an end to mandatory coverage. Just weeks before the study came out, the WSIB announced it will start pre-registering companies under Bill 119, an amendment to the Workplace Safety and Insurance Act which will require all independent operators and small businesses in the construction industry to register and pay premiums. The bill comes into effect Jan. 1, 2013.
Arnott says underground economy practices in construction threaten health and safety and undermine the workers' compensation system.
"Requiring mandatory coverage in the construction sector will help to level the playing field. It is important to make sure that everyone is paying their fair share. By having coverage for everyone, no one gains a competitive advantage by opting out of the coverage," she says.
However, Satinder Chera, CFIB's vice-president for Ontario, says the federation opposes extending required registration in the construction industry because it will have a significant impact on small construction businesses.
"It has nothing to do with health and safety. It has nothing to do with getting at the underground economy. It has everything to do with getting more money in through the doors at the WSIB," he says.
"It has a massive unfunded liability, and this is an attempt by the WSIB to get its hands on more and more employer dollars so they can fix up their financial position."
Business owners already pay premiums on their employees' earnings, he adds, and next year they must start paying on their own earnings. "Because they pay for the employees, they have access to health and safety materials. And if the government is going to have a separate rate category for those individuals who never set foot on the construction site, then it really isn't about health and safety. It's about dollars and cents."
Based on a survey of members, Chera says, the federation estimates the WSIB premiums will cost small construction company owners $11,000 on average annually.
In fact, premiums will vary widely, WSIB's Arnott says, noting premium amounts depend on two things: the business activity and the gross earnings of the individual up to the board's annual ceiling.
"For example, if an individual's business activity is in rate group 704–Electrical and Incidental Construction Services," she says, "the maximum premium will be $2,941. This is based on the annual insurable earnings maximum of $81,700 and a premium rate of $3.60 for 2012."
Chera says the federation will continue through 2012 to protest against the extension of coverage in the construction industry. "This is bad policy," he says.
Source: Canadian Occupational Safety