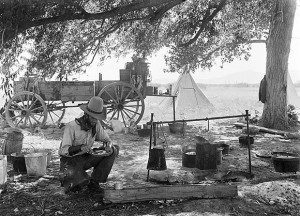 1984 Group of Companies (1984) is a leader in the field of Occupational Health & Safety—delivering innovative safety solutions to exploration and mining camps throughout Northern Canada and around the globe. Camp Cooks (OFA 3 certified) are dual positioned roles to manage and oversee kitchen operations and support the first aid requirements within the camp.
Key Responsibilities
OFA Site Duties
Attend to any and all first aid requirements and initiate medical evacuations as instructed by higher medical care professionals.
Support the 1984 site-specific Emergency Response Plan i.e. Logistics, loading, packaging & transporting patients.
Provide ongoing maintenance and inventory control of first aid room, equipment and supplies.
Attend safety meetings and report any hazards and/or correct unsafe working conditions.
Provide accident/incident medical information and site-specific reports to 1984 head office.
Remain prepared to respond to emergencies 24 hours a day.
Kitchen Duties
Conduct quality control checks with on-site management to ensure excellent ongoing service.
Assist 1984 Field & Logistics Manager with performance management issues as required.
Assess and report issues with kitchen equipment and supplies to 1984 Field & Logistics Manager.
Prepare and submit weekly menus to the Camp Manager on site and Field & Logistics Manager.
Implement and maintain 1984 Food Safety Plan (FSP).
Maintain food inventory and order groceries based on approved weekly menu.
Provide ongoing coaching and training to 1984 kitchen field staff.
Troubleshoot – staff problems, kitchen equipment issues, liaise with grocers for quality, quantity and back orders.
Requirements Include
Current OFA3 certification or equivalent (70 hour course) with AED.
Food service experience as a Cook/Chef preferably in a similar remote camp environment.
Culinary Arts training, and/or commercial cooking background preferred.
Valid Food Safe and WHMIS Certificates.
Excellent verbal and written communication skills in English.
Proficiency in written and spoken French an asset, but not required.
Strong management, organizational and problem solving abilities.
Excellent conflict resolution skills.
Highly motivated, team-oriented individual with attention to detail.
Ability to work effectively alone and prioritize tasks.
Demonstrated ability to perform well in high stress situations.
Familiar with the Medical Evacuations Programs.
Valid driver's license is an asset, but not required.
Bondable.
Work Conditions
Primarily remote camp locations throughout Northern Canada and Arctic regions with exposure to extreme weather conditions and temperatures.
Twelve (12) hour shifts, seven (7) days a week on a rotational schedule of up to a maximum of six (6) weeks on site.
Must be able to live communally in shared accommodation.
Performance of duties may involve exposure to hazardous materials and/or blood pathogens.
The employee is occasionally required to stoop, kneel, crouch or crawl.
Nature of work requires lifting or moving medium weight objects of up to 50 lbs to the waist and 20 lbs above the shoulders.