PETER KENTER
correspondent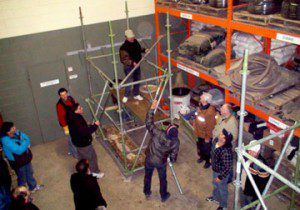 Today masonry contractor Limen Group will simultaneously suspend work at every one of its project sites across the country and the company's clients are on board with the decision.
The date has been set aside as a mandatory safety training day at which more than 600 employees will receive fall protection and scaffold awareness instruction. The underlying rationale for the massive safety training blitz? Everyone will be on the same page with consistent training, and nobody gets missed.
The program follows a three-day training session held from Jan. 27th to 29th for all Limen Group supervisors, foremen and scaffold erectors at the company's head office in Toronto.
About 50 personnel received Competent Person Training as mandated by the Ontario Occupational Health and Safety Act (OHSA) and by the Canadian Standards Association (CSA) standard Z797-09 (Code of Practice For Access Scaffold). Training was provided by Dunn-Wright Engineering Inc. of Alliston, Ont., a training institute accredited by the Scaffold and Access Industry Association.
Limen Group has been planning the safety training effort since early November, getting management, employees, unions and clients on board with the single-day session.
"Getting the buy-in for promoting health and safety was easy," says Arran Brannigan, vice-president of operations for Limen Group.
"At any of our project sites we're using scaffolds and this benefits our company, its workers, unions, and owners."
Logistics? Not so simple. Workers will attend sessions in four different conference training halls in Vancouver, Toronto, Saint John, N.B. and St. John's, N.L.
"In Ontario we're bringing in workers from every part of the province at company expense, from Sault Ste. Marie, to Ottawa and Windsor," says Brannigan,
"They'll be flying in, driving in, whatever it takes to get there."
The training will focus on ( continue reading )