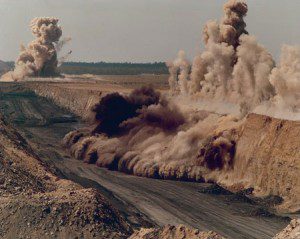 A report released Tuesday by B.C.'s Ministry of Mines paints a picture as to what went wrong when three people were struck by flying rocks after a disastrous explosion at a Shawnigan Lake blasting company in September.
One woman lost an arm and two men were hit on the head with rocks that flew more than 300 metres after the blast at Mid-Island Aggregates on the afternoon of Sept. 20, 2011.
Ed Taje, senior inspector of mines who led the investigation, found the drill holes were overloaded based on the rock structure of about 4,000 cubic metres. Taje found the rock shattered in a horizontal direction, which sent jagged pieces flying into what should have been a safe zone.
The company did not follow proper procedure in initiating the blast, the report said. The blast machine initially failed, but when a second one was brought in, inadequate warning was given before the blast.
Witnesses at the site and business owners on nearby South Shawnigan Lake Road said they did not receive notification of the blast and when they heard it, it didn't sound right.
The inspector determined the blast was not electronically monitored and the required 24-hour notification was not given. "After the failure of the first attempt to fire the blast, there was ( continue reading )