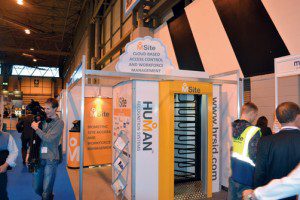 Is it coming to Canadian construction sites soon?
Human Recognition Systems (HRS) is delighted to announce a strategic agreement with Lend Lease for the sole supply to all Lend Lease construction sites of centrally managed biometric access control and workforce reporting using the HRS solution MSite.
Lend Lease, an international leader in property and infrastructure, will nationally deploy MSite v4. Lend Lease recognised the value and power in the latest edition to manage and report centrally on all of its sites. Lend Lease and HRS have worked together for a number of years but this strategic agreement formalises the relationship and gives HRS sole supplier status.
MSite v4 is fully operational in the cloud meaning all information on site access and reports can be accessed wherever you are as long as you have a web connection. HRS is unique in terms of the access it provides through a cloud based system, not only can you remotely manage site access control including banning and granting permission, but, provide cumulative central reporting across all sites, groups of sites or at an individual site level.
Andy Fulterer Head of Strategic Procurement Lend Lease said "Centrally managing access to all our sites will save us considerable time in reporting and allows our on-site project team to focus on managing projects on site, while giving our head office instant visibility to all the data needed real time.
He added "HRS proved to have the best technology to provide a solution to manage all our projects and give us full visibility on workforce reporting across all sites. We have been impressed with their ability to meet our specific requirements"
Neil Norman commented "Using MSite already saves time and money for hundreds of construction sites by reducing administration and overpayments, while managing access. With the ability to now manage all site access and reporting centrally we see this will be an even bigger saving to UK construction companies. We are delighted to have been chosen to work with Lend Lease to meet their specific needs and look forward to a long and trusted partnership"
The contract with Lend Lease covers the use of the secure MSite Access Pod at sites which require a turnstile. The MSite Access Pod houses a full-height turnstile and biometric hardware to manage workers on to and off-site. The 'plug and play' nature of the system means the only requirement on site is power, and the design of the MSite Access Pod allows for easy relocation with minimum disruption during the project.
Source: Construction News Portal