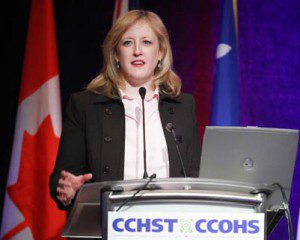 Hamilton, Ontario, February 22, 2012—Today, the Honourable Lisa Raitt,Canada's Labour Minister, toured the Canadian Centre for Occupational Health and Safety (CCOHS), and discussed the importance of providing Canadians with the information they need to prevent work-related illnesses and injuries.
"I had an opportunity today to reflect upon the vision and operational direction of the CCOHS and its role within Canada and the world. Canada has a leadership role to play in the field of Occupational Health and Safety" stated Minister Raitt.  "In my discussions with the Centre's President and Chief Executive Officer, Mr. Stevan Horvath, I highlighted the Government of Canada's commitment to working with its partners towards the important and common goal of making all Canadians healthier and safer."
"CCOHS is taking the necessary steps towards a number of technological solutions to promote the dissemination of Heath and Safety information on a national and global scale.  Minister Raitt further stated, "I am excited that in the coming weeks a multilingual web portal will be available to the general public in the language of their choice."
Established in 1978, CCOHS has a mandate to promote the total well-being—physical, psychosocial and mental health—of working Canadians by providing information, training, education, management systems and solutions that support health, safety and wellness programs.
Source: Canada News Centre
This news release is available in alternative formats upon request.
Ashley Kelahear
Press Secretary
Office of Minister Raitt
819-953-5646
Media Relations Office
Human Resources and
Skills Development Canada
819-994-5559