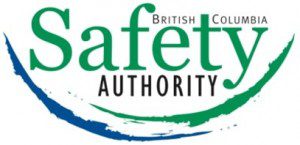 How would you like to get up in the morning and help keep our province safe? That's exactly what the 300 employees of the BC Safety Authority do every day, and the organization has again been named one of BC's Top Employers.
The 2012 competition announced its winners today and for the fourth year running, the BC Safety Authority (BCSA) was chosen as one of the best places to work in the province. Approximately 150 staff work directly out of the New Westminster office, located at 505 6th Street.
"Our organization is an incredibly desirable place to work," says the BC Safety Authority's Director of Human Resources, Sue Gagne. "Almost 100% of the people that we select to join the company accept our offer and once they join, employees stay for 10 years on average. People want to be here. They value their work and choose to make a difference by staying within the BCSA and building stronger communities."
Here are some of the reasons why the BC Safety Authority was selected as one of BC's Top Employers for 2012:
The BCSA is committed to continuous employee skills development and offers internal courses and subsidizes the cost of professional association memberships as well as tuition fees for employees enrolled in selected courses at outside training or educational institutions.
The BCSA provides exceptional parental leave top-up for new mothers, adoptive parents and new fathers.
The BCSA starts all employees with at least three weeks of paid vacation.
The BC Safety Authority's health and family benefits are rated as exceptional by the competition's selection committee. Their health benefits plan includes 100% premium coverage for family benefits including dental, extended health, and income protection. The company's family-friendly benefits include: various special leave days; flexible working hours; telecommuting; an earned days off (EDO) program; and more.
According to Gagne, "Our work environment is a reflection of the passion and commitment that all of the staff demonstrate on a daily basis. We come from different places, different backgrounds and bring different perspectives to help support the safety system. The strength of our organization has always been our people."
The British Columbia Safety Authority mandates the safe installation and use of technical equipment. The BCSA also issues permits and licences, educates, and conducts on-site inspections in high-risk situations.
Read more about the Safety Authority in the BCSA Today newsletter available at: www.safetyauthority.ca/about/publications.
Sign up to receive an email alert when BC Safety Authority news is released. Go to (http://www.safetyauthority.ca/user/register).
Contact Information