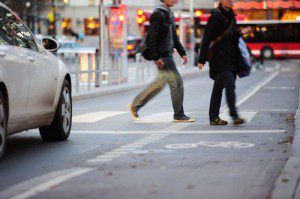 You might want to think twice before you jaywalk, ignore a stop sign on a bicycle or drive through a crosswalk in the city of Vancouver. Police and city staff are launching a new six-week road safety campaign and pedestrians are getting special attention.
"[It's] called 'People are Fragile,'" explains Vision Vancouver Councillor Heather Deal, as she stood near Georgia and Burrard Streets in downtown Vancouver this morning. "Tragically, we continue to see an average of 18 road users killed in traffic collisions every year [in Vancouver], and that's just too many."
The safety blitz has three main targets: people who jaywalk, cyclists running stop signs, and drivers who don't stop at marked and unmarked crosswalks.
Deal says the campaign will get in people's faces through social media and bus posters. "These depict people as fragile porcelain figures who put themselves at risk by engaging in dangerous behaviour on the streets. We have pedestrians and cyclists looking like they could be broken by the next car or bike that comes along."
"People are Fragile" also features sidewalk messaging, including a curved phrase that stretches from the Burrard Street sidewalk onto the road.
"My meeting is in less than ten minutes," recites Deal, reading the white-painted words. "'I better hurry across…' And then as you hit the road, the word 'street' is scattered across the road, as if somebody had been hit when they were saying those words."
Vancouver Police Staff Sergeant Earl Anderson says the five city intersections with the most frequent pedestrian-involved crashes are ( read article )