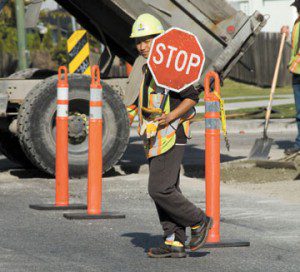 A B.C. paving contractor is asking provincial regulators to improve training for flaggers and stiffen penalties for drivers who disobey their directions, after an employee was hit by a vehicle in two separate incidents last year.
"We think traffic control persons (TCP) should receive more training on how to deal with irate drivers and drivers who disobey their directions," said Heather MacDonald, an occupational health and safety officer for Burnaby-based Imperial Paving.
"They should also have stricter penalties and fines for drivers, who disobey traffic control persons."
MacDonald is asking WorkSafeBC and the RCMP to implement these recommendations to help ensure the safety of these workers, after employee Lisa Walters was knocked down twice in 2011.
The first incident happened at about 12:50 p.m. on June 10 at Nelson Street and Highway 7 in Mission.
Walters was hit by a white car.
"She had traffic at a complete stop, when the car pulled out of the line and into the left hand turn lane," said MacDonald.
"She stopped him again, so he backed up and hit her. Then he backed up again, drove around her and turned right up Nelson. To our knowledge, this person has never been found."
An ambulance arrived at the scene and Walters was treated for several minor injuries, including bumps and bruises.
Mission RCMP also attended the scene and were given a description of the car and a partial license plate number. The incident is still under investigation.
According to MacDonald, the second incident occurred on Oct. 17 in Vancouver at Quebec Street and 1st Avenue
In this situation, Walters was working with a grinding machine that had a wide turning radius. She had to hold traffic in two directions, so the machine could make a three-point turn.
"While she had traffic stopped, a green SUV (sports utility vehicle) approached her," said MacDonald.
"The driver (allegedly) became irate and tried to drive between her and the machine, and hit her. There was not enough room to get through."
After the driver knocked Walters to the ground, he allegedly got out of his car and stood over her yelling obscenities.
He also allegedly spit on Walters.
"A supervisor came to the aid of Walters and asked the man to wait by his vehicle until police arrived," said MacDonald.
"He opened the back of the SUV, pulled out a cane and proceeded to threaten, the supervisor, Lisa and a group of bystanders."
When the man heard the ambulance sirens, MacDonald said he put the cane back in the car and waited for the police.
When the police arrived, he became irate again and was arrested.
Walters suffered from bumps, bruises and a hit to her head.
The man was identified and charged with assault with a deadly weapon, as well as dangerous operation of a motor vehicle.
A court date has been set for Nov. 26-28, 2012.
In order to prevent similar incidents from occurring in the future, MacDonald argued that it is necessary to improve the overall standard of training for TCPs, which includes dealing with difficult or irate drivers.
The executive director of the BC Construction Safety Alliance disagrees.
"I don't agree with the statement that we don't have adequate training as it stands right now," said Michael McKenna.
"We do training for the flaggers that control traffic in a high-risk environment, which is the majority of people that you see on the road. The training is adequate to address the regulations, as they are currently written."
The BCCSA's two day training curriculum for TCPs is the only course in the province that is accepted by WorkSafeBC under Section 18 of the Occupational Health and Safety Regulation for high-risk traffic control.
MacDonald said there is a serious gap in the B.C. Ministry of Transportation standards because they were developed for work on highways and a lot of flaggers are working on other types of road.
She also said the training is not sufficient because a lot of TCPs are showing up to their first assignments totally unprepared.
Source: Journal of Commerce – Western Canada's Construction Newspaper