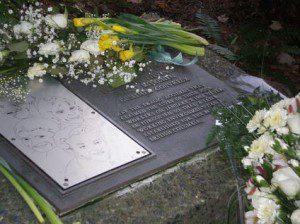 Thirty-one years may seem like a long time to most people, but to Michael Davis it was like yesterday.
"I still miss my dad terribly," an emotional Davis told a sombre crowd gathered at a downtown ceremony Fri-day commemorating four construction workers – including Davis's father – killed on the job on Jan. 7, 1981.
On this day, 31 years ago, Donald Davis fell to his death from the top of the Bentall Four tower at Melville and Thurlow streets after a wood and metal form he was standing on broke away from the building. He was 34.
Co-workers Gunther Couvreux, 49, Yrjo Mitrunen, 46, and Brian Steven-son, 21, also lost their lives in the accident, one of the worst in the city's history of construction.
Every year since, the victims' family members – joined by politicians, labour and industry leaders, and workers – gather close to the accident site to lay flowers in memory of their loved ones and renew a public call for improved safety in what remains a very dangerous job.
The B.C. construction industry has averaged a fatality rate of about 26 workers per year over the past 31 years, for a grim total of more than 800 construction work-related deaths.
"It's got to stop," said Coun. Kerry Jang, who attended Friday's event on behalf of the City of Vancouver.
"My dad was a construction worker … and I've often thought, ( read the full story )