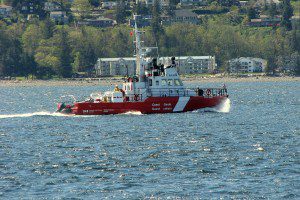 The Strathcona Regional District is about to step into the debate over federal cutbacks to staffing at Coast Guard Marine Communications and Traffic Service centres.
Last Wednesday, the SRD's Committee of the Whole passed a motion calling for the SRD chair to write a letter to the Minister of Fisheries and Oceans supporting the current level of service provided at MCTS centres, including Comox's Cape Lazo centre. That motion comes up for approval at tomorrow's SRD board meeting.
Meanwhile, Jim Abram, former lightkeeper and present SRD director for Discovery Islands-Mainland Inlets, (Area 'C') is also calling for a resolution to the Association of Vancouver Island and Coastal Communities (AVICC) calling on the association to petition the federal government to maintain the current levels of staff on watch year-round at all five MCTS centres on the BC coast.
Starting this month, the Coast Guard is ( continue reading )
Source: Campbell-River Courier-Islander