Video Below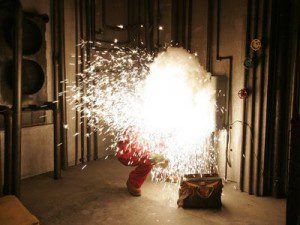 Too often we see fines doled out to companies for safety violations. Even in companies with proper training and gear readily provided and easily accessible this happens. The reason usually comes down to individual choice of a worker to cut a few corners. Nothing will happen now. We secretly pray something unconsciously and proceed to test fate.
Today, coming across Donnie's Accident story, and the video his wife put together, prompted this must-see article to share with you. Her video shares a glimpse of the ordeal she had to endure, and the good fortune that saw Donnie's eventual recovery.
Safety gear, personal protective equipment (PPE), is intended to minimize the damage, the hurt that the body will experience, and provide the chance for a full recovery and survival. Too often, it is seen as an unnecessary burden. In some Canadian provinces and cities, a strong safety culture exists and is well supported. In others, quite the opposite is true. This needs to change.
SafetyLives.com truly hopes this story, Donnie's Accident, will have a significant impact upon the importance and value your safety decisions have, not only for your own life, but also of those who love you.
This is one story, one occupation. Accidents happen in all occupations, in a variety of ways.