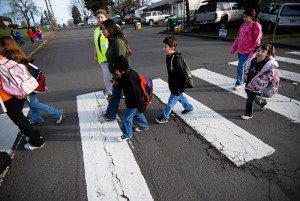 With the continuing cold weather and icy road conditions, the VPD is issuing a timely reminder to watch for young students coming and going from schools around the city. Kids are very distracted at this time of year in the lead up to Christmas and drivers need to be extra cautious.
School safety patrols began in 1935. Currently, there are 35 active patrols in the Vancouver school district, with approximately 1,300 students participating.
"The challenges of student pedestrian safety have only grown since the initiative began in 1935, making support for programs like this more important than ever," says Patti Bacchus, the Board of Education Chair.
The Vancouver Police Foundation has provided a $15,000 donation, funding the program through 2013.
"The Foundation promotes alternative funding to inspire innovative community partnerships with the Vancouver Police Department," says Valerie MacLean, Executive Director of the Vancouver Police Foundation. "This program is another example of a community partnership that enhances public safety, for which the Vancouver Police Foundation is very proud to provide funding. This program also holds special meaning for me, as I was a student patroller myself years ago."
Vancouver Police Traffic Authority members are responsible for training student safety patrollers.