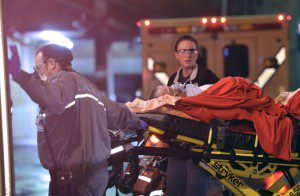 Two Quebec workers remain in hospital one week after suffering severe burn injuries after coming into contact with a cleaning solution at a brewery in Montreal.
On November 29, just before midnight, the two Molson Coors operations employees came into contact with "an extremely hot cleaning solution" used industry-wide to wash and sterilize beer bottles, says Molson Coors Canada spokeswoman Marie-Hélène Lagacé. The burn injuries were caused by a "combination of the solution itself and the temperatures that it was at," Lagacé says, and the workers remained in hospital as of December 8.
Jacques Nadeau, a spokesman for Quebec's workplace safety board, the Commission de la santé et de la sécurité du travail (CSST), says that the workers – experienced and long-time Molson Coors employees in their 50s – were washing recyclable bottles when they opened a panel on the bottle-washing machine and were splashed with the solution.
The company and the union representing the workers, Teamsters Canada, disagree with the CSST regarding the contents of the solution. While Molson Coors says that "the solution itself is not acid, it was misreported originally," and the union calls it a "cleaning solution at high temperature," Nadeau says most of the solution consists of a corrosive acid. "Our specialists wrote in their preliminary report that there was caustic acid in there," he says.
Nadeau says that the CSST still has to interview the injured workers and will further investigate the company's operations involving the bottle-washing machine, "which is used all the time…without stopping." A stop-work order was issued for the machine, Nadeau says, adding that a preliminary examination of the machine found it was not malfunctioning.
Lagacé says that the company is conducting an internal investigation into the incident to parallel those of the CSST and Teamsters Canada. Safety measures at the company are also being reviewed, she says.
Stéphane Lacroix, director of communications with Teamsters Canada, says that the union has been representing approximately 800 workers at the brewery for more than 20 years. Gilles Lafortune, a union representative with Local 1999 of Teamster Québec, adds that the union cannot comment on the case while the investigation continues.
Several days after the accident, another Quebec worker suffered serious burn injuries after a drum he was cutting exploded at an Environnement Sanivac plant in Saint-Augustin-de-Desmaures, a suburb of Quebec City. On December 4, the 16-year-old worker was using a cutting torch to slice into a drum that was not completely empty when it exploded, Nadeau says.
"We told them to stop their operations and make sure they do not cut any drums that had been used with potentially flammable liquids inside," Nadeau says, adding that it's believed that a "petroleum derivative" was in the drum at the time of the explosion. A stop-use order was also placed on the cutting torch.
Source: (Canadian OH&S News)
Related Story: Brewery Workers Burned with Acid