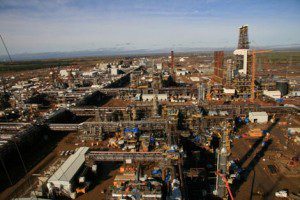 WORK WITH GREAT PEOPLE.  ACCOMPLISH GREAT THINGS.  CREATE YOUR CAREER PATH.

At Canadian Natural, we are proud of the achievements of our people.
Our goal has always been to run our business and run it well, executing on our projects and creating value for our shareholders. That is what we have focused on for the past twenty years, and it is what we continue to focus on.  Today the efforts of over 4000 employees have helped us become a leading senior oil and gas exploration and production company.Horizon Oil Sands
Horizon Oil Sands is an exciting part of our growth.  Full production capacity for Phase 1 is 110,000 bbl/d of fully upgraded, light, sweet synthetic crude oil.  We will see incremental production gains throughout the completion of future expansion and debottlenecking, with targeted full facility capacity of approximately 250,000 bbl/d.  Further phases of expansion will bring the ultimate capacity to 500,000 bbl/d.

COMPETITIVE SALARY – STOCK OPTIONS – STOCK SAVINGS PLAN – ANNUAL BONUSES – BENEFITS – LOCATION PREMIUMS – RELOCATION – FLY IN/FLY OUT AND CAMP PROGRAM!
Please select the WHAT WE OFFER tab on http://careers.cnrl.com/Horizon to learn more about our competitive compensation plan!

This position is based in Fort McMurray, Alberta and is eligible for:
• Relocation to Calgary or Fort McMurray
• Company Sponsored Fly In/Fly Out and Camp Accommodation Program with charter flights available from Calgary or Edmonton
THE OPPORTUNITY:
As a key member of the Emergency Services group, you will be responsible for managing a wide range of maintenance programs that directly impact health and safety of employees and the Horizon Oil Sands plant in the event of an emergency.
• Contribute your technical expertise by ensuring that all identified maintenance programs comply with manufacturers, government and department standards
• Ensure the Respiratory Protection / Gas Detection Servicing Program is operated in an efficient cost-effective manner and meets all Business Unit needs.HOW WILL YOU MAKE YOUR MARK?
• Conduct the servicing and maintenance program for all Gas Detection and Respiratory Protective Equipment (RPE) in accordance to legislative standards
• Provide leadership and guidance to all contract Maintenance Personnel and participate in trouble-shooting and influencing area supervisors and shift supervisors which may include issue elevation (Site Emergency Coordinator, Lead – Emergency Services) to adopt effective practices in relation to maintenance programs
• Direct responsibility for the daily operations of the servicing program, ensuring all standards and procedures are followed, and all business unit needs are met
• Ensure all maintenance equipment is maintained and calibrated on a yearly basis to satisfy manufacturers and government standards
• Investigate all downgrading incidents of bodily injury and property damage, and follow up to prevent re-occurrence of same, produce top quality incident reports in a timely manner
• Maintain housekeeping standards by performing spot checks on jobs, equipment and areas daily
• Order all maintenance parts to maintain a minimum stock required, satisfying our emergency maintenance calls and regular maintenance schedules
• Maintain accurate and up-to-date record keeping system that identifies all maintenance functions to ensure all government and company requirements are satisfied, and records can be produced if required
• Ensure Emergency Services Servicing and Maintenance program is followed and receive feedback to sustain equipment availability that allows maximum efficiencies and long term availability and productivity
• Provide a high level of technical advice and support to business unit supervision and shift personnel regarding Gas Detection and Respiratory Protective Equipment
• Provide leadership in development and implementation of Loss Management Program by executing personal job responsibilities in accordance with area specific standards and activity calendars
• Support the Emergency Services Department (ESD) management team by providing feedback regarding servicing and maintenance issues and opportunities, and actively participate in the team's decision-making process
• Provide leadership to ensure all Emergency Services programs and processes support occupational health, safety and fire prevention while paying due regard to the protection of the environment, and adhering to all applicable legislation
• Manage a wide range of maintenance programs that directly impact life preservation and the protection of assets by ensuring that all Respiratory Protective Equipment comply with manufactures, government and department standards

QUALIFICATIONS:
• 3+ years of experience in a similar role with completed relevant post secondary education
• Scott Technician required – a certification acquired through Scott that permits the specialist to maintain and service Horizon Respiratory Protection equipment
• Industrial Scientific Gas Detector Technician required – a qualification acquired through Industrial Scientific that permits the specialist to maintain and service Horizon Gas Detection equipment
• Proficient in Microsoft Office
• Valid Alberta Driver's License

HEALTH AND SAFETY:
At Canadian Natural, safety is a core value.  We conduct all of our operations in a way that identifies, minimizes and mitigates harm to the health and safety of employees, contractors, the public and the environment.

Only those candidates selected for an interview will be contacted.

Apply online.