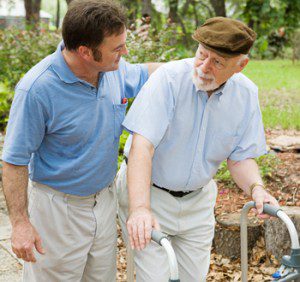 Richmond, B.C., November 29, 2011 — WorkSafeBC has produced a television special with Shaw TV that addresses some of the safety challenges faced by those caring for people with dementia. Dialogue on Dementia: Keeping Safe features a physician, family member, care worker, facility owner, and a health and safety specialist each sharing their experiences with dementia-related care.
"The goal for those involved in the show is to promote quality care for dementia patients and to offer strategies to help minimize the safety risks for their caregivers," says Stephen Symon, WorkSafeBC industry labour and services manager for healthcare. "Providing this discussion through TV allows us to extend these important messages to a wide audience."
More than 70,000 people in B.C. are estimated to be living with some form of dementia — a number that's expected to increase to 175,000 in the next 30 years. It is the main reason why people are admitted to long term care, with more than 80 percent of those having some form of dementia. One in ten long-term-care workers in B.C. suffers a work-related injury each year, and being hit, grabbed, bitten, and kicked are the second leading cause of these injuries. Naturally, family caregivers looking after relatives with dementia also face similar risks.
"I have experienced firsthand some of these aggressive behaviours while working in long-term care for the past 30 years," says Gordon Freeman, a residential care aide and panel member in the program. "Strategies to deal with these behaviours have changed over the years and it is important that all caregivers are aware of what they can do to create a safe atmosphere for workers and the people they are caring for."
The 60-minute program is scheduled to air in Metro Vancouver on Shaw TV:
| December 2 | December 11 | December 16 | December 17 |
| --- | --- | --- | --- |
| 5:00 p.m. | 9:00 a.m. | 9:00 p.m. | 11:00 p.m. |
It will also air in regions of B.C. outside of the Lower Mainland on Shaw TV in early 2012. For more information, the booklet Dementia: Understanding Risk and Preventing Violence and the video Working with Dementia: Safe Work Practices for Caregivers are available at WorkSafeBC.com.
WorkSafeBC is an independent provincial statutory agency governed by a board of directors that serves about 2.1 million workers and more than 200,000 employers. WorkSafeBC was born from the historic compromise between B.C.'s workers and employers in 1917 where workers gave up the right to sue their employers and fellow workers for injuries on the job in return for a no-fault insurance program fully paid for by employers. WorkSafeBC is committed to safe and healthy workplaces and to providing return-to-work rehabilitation and legislated compensation benefits.
---
To arrange for an interview, please contact:
Heather Young
Manager, Public Affairs
WorkSafeBC
Tel: 604 214-5441
Cell: 604 818-0020
Email: Heather.Young@worksafebc.com
Source: WorkSafeBC