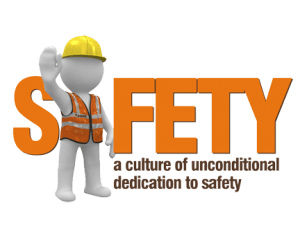 The "do as I say, not as I do" approach is not an effective method of leading, particularly when working to improve an organization's safety culture. In order to establish an effective safety culture, senior management must lead by example.
Culture is the atmosphere created by shared beliefs, shared attitudes, practices and a philosophy that characterizes a group of people. An organization's safety culture is the result of a number of these factors.
In order for an organization to develop a strong safety culture, that culture must start from the top (senior management) and extend down to the least experienced employee. Every worker needs to understand that safety must be the first focus of his or her job. The final responsibility for safety is not the responsibility of the safety person, but of each employee doing the work. After all, at the end of every day, the workers are the ones safely returning home – or not.
A Consistent, Visible Duty
Senior management's participation in health and safety programs must be a consistent and visible duty. For example, leaders should attend or participate in weekly safety meetings and speak to the newly hired employees at the safety orientation. This clearly demonstrates the commitment from upper management from day one.
Training managers, supervisory staff, key employees and the safety and health committee (if established) also is a good baseline for an effective culture. This training should include team building, hazard recognition, communication, mentoring and safety and health training, along with the development of a comprehensive safety program and guidelines that will be enforced by senior management. These elements will provide the group with a good foundation.
Safety training is a continuous process and working safely must be a condition of each worker's employment. Training should include, but not be limited to, the use and care of personal protective equipment (PPE), working in at-risk positions, the proper use of tools and equipment, company safety procedures and proper housekeeping. Statistics have shown that the aforementioned areas, if improperly executed, often result in the leading causes of many construction incidents.
Everyone is Responsible for Safety
No one plans to have an accident. No worker leaves home in the morning thinking, "I'm going to hurt myself or somebody else today." However, incidents do happen and there is always a reason. Workplace injuries might be attributed to complacency, job pressures (production, deadlines and long work hours), family problems, stress, lack of training or failure to recognize risk, among a host of other reasons. Sometimes the reason may be a simple lack of knowledge, or perhaps the worker did not understand instructions due to a language barrier.
In a strong safety culture, everyone feels responsible for safety and pursues it on a daily basis. In this type of environment, employees go beyond the call of duty to identify unsafe conditions and behaviors and intervene to correct them. For instance, in a strong safety culture, any worker would feel comfortable walking up to the plant manager or CEO and reminding him or her to wear safety glasses. This type of behavior would not be viewed as forward or overzealous, but rather would be valued and rewarded.
Management needs to establish a shared vision of safety, health and environmental goals and objectives versus a sole emphasis on production. Senior management also must be willing to support safety by providing resources (time, money for training) and holding managers and supervisors accountable for the same practices. The entire management and supervisory staff must set the example and lead the challenge.
In the end, influencing safety culture is more about leadership than management. Without support from senior management, safety behavior changes are less likely to be sustained.
Robert Guerra has 28 years of experience as a safety professional with an extensive background in providing safety program administration, supervision and training for field personnel and safety inspection services for construction projects. He has supported safety for construction of highways, building construction, airport construction and oil well sites. Robert currently serves as a senior principal technical specialist in the Los Angeles World Airports office of Parsons Brinckerhoff (PB), a global infrastructure strategic consulting, engineering and program/construction management organization. He is a Certified Safety Executive; a Certified Safety Manager and Hazardous Materials Supervisor with the World Safety Organization (WSO); the current president of the Southern California WSO Chapter; a Certified Safety and Health Manager with the National Safety Management Society (NSMS); and a member of the American Society of Safety Engineers (ASSE).