by Sandy Naiman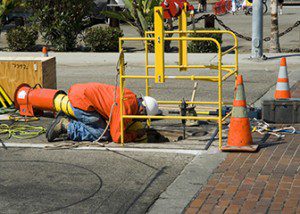 Accurately measuring workplace safety may seem easy, but it's not. Time-loss injury rates and the number of accidents and fatalities during a specific period is an industry standard for measuring safety – with zero as the ultimate goal. In fact, WorkSafe Saskatchewan has set its sights on zero injuries and fatalities with an aggressive "Mission Zero" campaign for workplace safety.
But, is this the best, most realistic indicator of workplace safety?
On April 20, 2010, an explosion and fire on the BP Deepwater Horizon oil drilling rig in the Gulf of Mexico killed 11 workers and injured 17 others.
Yet, prior to this disaster – the largest spill in petroleum history – BP's Deepwater Horizon offshore oil rig operated for seven years without a single time-lost incident or major environmental event, according to Judy Agnew, Ph.D., Senior Vice President, Safety Solutions at Aubrey Daniels International in her latest book Safe By Accident? Take the Luck out of Safety, Leadership Practices that Build Sustainable Safety Culture.
"Looking backwards at how many people have been hurt and lost time injury rates doesn't tell us what people are doing to prevent accidents" now and in the future," she says. "When a company has a zero incident rate, it gives the impression that everything is under control and safety's just fine, so what happens is people can focus on other things."
Agnew calls these statistics "lagging" indicators, measurements of what went wrong. She stresses that they are not only a poor measure of workplace safety; they're "the root cause" for many of these injuries and accidents.
Do you want to gamble on the safety of your workers and your workplace waiting for an accident to happen to address safety problems in your workplace? Doesn't it make more sense to prevent those injuries and accidents before they happen by using more realistic or "leading" indicators instead of "lagging" indicators?
"Such measures – lagging indicators – tell us how many people got hurt and how badly, but they do not tell us how well a company is doing at preventing accidents and incidents," Agnew says. "Incident rates can get better or worse with absolutely no change in safety conditions at work."
Zero Time Loss Injuries
Aiming at zero time-loss injuries is completely unrealistic and in safety management achieving those goals doesn't prove anything, according to Alan D. Quilley, CRSP, Alberta safety consultant and author of several books including The Emperor Wears No Hard Hat. "
"Even if zero harm is accomplished for a measurable period of time, it doesn't offer prove that people accomplishing it have done their work safely," he says.
Quilley has a problem with absolutes like "zero" or "perfection" because, he says, no one is perfect and "nothing in human experience has proven us to be perfect performers at anything. Humans make mistakes." It's part of our nature. It's how we learn and grow, he says.
"Misusing injury data to demonstrate the existence of safety," Quilley says, "is ( continue reading … )
Source: Job Safety by Seton