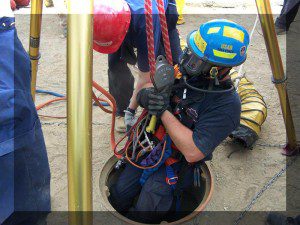 It is still a very dangerous business, and even with our best efforts, confined space accidents are still occurring.
Permit-required confined spaces are prevalent in a variety of workplaces, be they general industry, the construction industry, or shipyard work activities. Currently, the most comprehensive guidance for conducting safe permit-required confined space entry work activities is the OSHA General Industry Standard, 1910.146. This standard does a very good job of spelling out the employer's responsibilities for providing a rescue capability suitable for the conditions of the permitted confined space.
Although other standards do not provide comprehensive guidance equivalent to that in 1910.146, the fact remains that the nature of all permit-required confined spaces presents similar hazards, no matter what type of work activity is being performed. And the human body will react to, and suffer the consequences of, exposure to those hazards in the same way.
In a nutshell, OSHA 1910.146 requires that the employer evaluate a prospective rescue service's ability to respond to a rescue summons in a timely manner considering the hazards identified. One of the most important aspects of that requirement is "considering the hazards identified." This is assuming that the employer has done a thorough and accurate job of assessing the conditions of the confined spaces at the workplace.
The requirement that the employer make every attempt to isolate the confined space from any and all hazards cannot always be met. If the option of employing sections (c)(5) Alternate Entry or (d)(7) Reclassifying Confined Spaces is not feasible, then all of the requirements for providing timely rescue must be satisfied. Therefore, if hazards remain in the confined space or there is a potential for hazards to develop during entry operations, the employer must have a viable rescue capability at the ready.
In my years of providing training to employees for confined space rescue and in the course of consultation visits to various work sites, it is very apparent to me that the understanding of the OSHA requirements for permit-required confined space rescue spans the range from near-total ignorance to a top-notch confined space program that may be seeking information on the latest and greatest in rescue equipment and/or procedures. I have seen some very good confined space rescue programs, some pretty bad programs, and some downright ugly programs that unfortunately have resulted in catastrophic results.
Non-Entry Rescue
Probably the most common rescue capability that may effectively provide non-entry rescue is a retrieval system consisting of a retrieval line, chest or full body harness, wristlets if appropriate, and a lifting device or anchor. Keeping in mind that more than half of the fatalities in multi-fatality confined space incidents are the would-be rescuers, you always should consider the non-entry rescue retrieval system before an entry rescue effort.
The non-entry rescue retrieval system must be evaluated to ensure that if the need arises, it will function as necessary. There has to be a good understanding of the limitations of these types of systems. If there is a potential for the retrieval line to become fouled in an entanglement hazard that may create a greater hazard to the entrant(s) than any existing hazards, then the retrieval system should be ruled out as an option and an entry rescue capability needs to be employed. Likewise, if the entrant(s) must move around any corners, elevation changes, or any other structures that would interfere with the ability to haul the entrant(s) from the space, then the retrieval system would not be adequate.
One often-overlooked requirement for retrieval systems is the need to provide a lifting capability for any vertical entry greater than five (5) feet in depth. This requires some type of mechanical device, such as a winch or mechanical advantage rope system, that provides both a lifting and progress capture that will reliably and safely handle the anticipated loads.
One of the benefits of considering and evaluating a permit-required confined space to see whether non-entry rescue retrieval is a reliable option is that the Confined Space Attendant can very easily be trained to operate the retrieval system, especially if a pre-engineered system such as a tripod and winch system is used. By getting double duty out of the attendant, the employer is able to save on manpower requirements while still providing the necessary protections to the entrant(s).
Vetting a Professional Rescue Service
What about the permit-required confined spaces that are not suitable for non-entry rescue retrieval systems? These are the spaces that may have twists and turns to gain entry or that may have entanglement hazards created by the retrieval line. Or it may be a space that has multiple entrants, and managing the retrieval lines could in and of itself become a hazard. In these cases, it is of utmost importance that the employer thoroughly understands what a permit-required confined space entry rescue team must be capable of as it relates to the types of spaces and hazards at the work site.
There are several ways that an employer can satisfy the need for entry rescue. It seems the most common approach is for the employer to rely on municipal emergency responders to meet this critical need. For certain industries, an in-house rescue team may make the best sense. And finally, a third-party professional rescue service may make the most sense. Whichever of the three options described is used, it is the employer's responsibility to ( continue reading … )