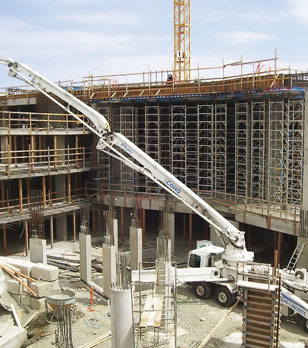 From the beginning of July to the end of August, the Ministry of Labour (MOL) will conduct a blitz on tower cranes, mobile cranes, and concrete pumping equipment. Improper use of this equipment could result injury or death to workers as well as to the public.
The blitz is designed to raise awareness about the hazards associated with this equipment, to ensure workplace parties are complying with the law, and to prevent injuries that could arise from unsafe work practices.
Hazards relating to tower cranes, mobile cranes, and concrete pumping equipment can include
Struck-by injuries from moving equipment or dropped loads
Electrocution from contact with overhead powerlines
Crushing injuries from equipment overturning
Falls from workers at height
Priorities
MOL inspectors will focus on:
Equipment maintenance
The equipment must be maintained as per the manufacturer's recommendations.
Inspections and non-destructive testing must be performed (when required by the regulations) and records maintained.
Maintenance reports and log books must be up-to-date.
Structural components of the equipment must be working properly.
Safety system indicators must be used and functioning properly.
The hose extension on discharge lines of concrete pumps must be supported.
Tower crane documentation, before and after erection, includes: a professional engineer's design drawings for installation; verification that the crane was properly inspected prior to its first use and maintained afterwards; a review of log book entries to ensure operational functions such as limit and overload limit switches were properly tested.
Mobile crane documentation includes a review of the operator log book and operator manual, and proof that the crane was properly inspected and maintained.
Equipment operators
Equipment operators must have a certificate of qualification or record of training. Crane operators must be legally certified to operate a crane at a construction site. (Where required, crane operators may be in the process of being trained as an apprentice.)
Equipment must not be overloaded.
Equipment operation manuals must be readily available on site.
Operators must follow the manufacturer's operating instructions.
Operators must use safe rigging and hoisting practices.
Site preparation
The jobsite must be properly planned and laid out.
Heavy equipment must be able to set up safely.
There must be room for rescue vehicles to get access and egress in case of an emergency.
There must be an emergency response plan and emergency procedures must be put into place.
Ground conditions must be appropriate for the set up of the equipment.
There must be an adequate foundation base for the tower crane.
Equipment must not be in close proximity to live overhead powerlines.
The design drawings must meet regulatory requirements (e.g., confirmation that the bearing capacity of the outrigger support has been considered and is adequate to prevent overturning).
Traffic control
There must be an effective traffic control plan in place.
Signallers must be properly trained.
Traffic-related devices such as signs and delineators must be properly maintained.
Safe access and fall prevention
All fall hazards and access hazards must be properly addressed.
Openings must have proper guardrails or protection.
Workers must be given adequate access to equipment.
Inspectors will take a "zero tolerance" approach to contraventions found under the Occupational Health and Safety Act and its regulations.
Responsibilities of Workplace Parties
Constructor
Ensure the measures and procedures for the safe operation of tower cranes, mobile cranes and concrete pumping equipment are carried out on the project.
Ensure that every employer and every worker performing work on the project operates the tower cranes, mobile cranes and concrete pumping equipment in a safe manner.
Owners of equipment
Owners of cranes or similar hoisting devices must
Keep a permanent record of all inspections, tests, repairs, modifications and maintenance.
Prepare a log book that includes the permanent record of whichever is greater—the past 12 months or the period the cranes or hoisting devices are on the project.
Keep this log book on the project with the cranes or hoisting devices.
Retain and make available to the constructor, on request, copies of all log books and records for the cranes or hoisting devices.
Suppliers
Suppliers of rented or leased machines, devices, tools or equipment for use in OHSA-covered workplaces must ensure they
Comply with the Occupational Health and Safety Act and related regulations.
Maintain the machines, devices, tools or equipment in good condition.
Employer
Employers must comply with the Occupational Health and Safety Act and its related regulations. The employer must:
Make sure the crane is maintained in good condition and used as per operating manuals issued by the manufacturers and that a copy of the the operating manuals and a maintenance log book is kept with the crane.
Ensure a competent worker inspects the crane to verify the its rated capacity and to identify any hazardous conditions.
Use only MTCU-certified operators when the crane is capable of hoisting more than 7,260 kg. Cranes that hoist less than 7,260 kg must be operated by workers trained in the crane's safe operation. Workers must carry proof of certification or training.
Set up the crane on a firm level surface and make sure it's operated as per manufacturer's instructions.
Supervisors
Supervisors must ensure all workplace parties comply with the Occupational Health and Safety Act and its related regulations. Supervisors must:
Ensure workers comply with the OHSA and its regulations.
Inspect or appoint a competent worker to inspect cranes and other equipment to ensure workers are not endangered.
Make sure any equipment, protective devices, or clothing required by the employer is used or worn by workers.
Advise workers of any potential or actual health or safety dangers known by the supervisor.
Provide workers with any required written instructions on measures and procedures to protect them when prescribed.
Take every reasonable precaution under the circumstances to protect workers.
Workers
Work in compliance with the OHSA and its regulations.
Operate a crane or equipment that they are trained or certified to operate
Operate a crane or other equipment in a safe manner
Report any known workplace hazards or OHSA violations to the supervisor or employer.
Source: Infrastructure Health & Safety Association