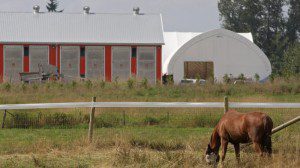 Before three people were killed at a Langley mushroom farm, WorkSafeBC officials had investigated at least two other instances where mushroom farm workers were knocked unconscious by toxic gases.
Despite accidents in 2006 and 2008, no broad warning was issued to the province's five companies that produce mushroom compost or the 40 farms that use it.
On July 24, 2008 — six weeks before the fatal incident in Langley — a Central Composting employee was hospitalized, overcome in the composting barn by deadly fumes including ammonia and methane in an oxygen-depleted environment in Abbotsford.
Along with an ambulance, two WorkSafe officials attended the incident at 830 Lefeuvre Rd., according to inspection reports obtained by The Vancouver Sun under an access to information request.
A stop-work order was issued over fears gases in the composting barn and its bunkers presented a risk of injury, serious illness or even death.
The next day, work resumed when officials returned to the site and deemed the imminent risk to employees had passed.
The WorkSafeBC inspectors noted the worker who fell ill was likely dehydrated, exposed to toxic gases and not properly equipped with a respirator. They also found Central Composting lacked an "exposure control plan," a long-standing requirement for workplaces with harmful air contaminants above an acceptable limit.
Composting facilities regularly produce hydrogen sulphide, ammonia, methane and carbon dioxide.
Numerous other safety violations were cited at Central Composting. The farm had no occupational health and safety program; no exposure control plan to protect workers from toxic gases; workers were not wearing properly fitting respiratory equipment; and there was no safety program to manage hazardous chemicals.
Nearly two years before the incident at Central Composting, in June 2006, a contractor was injured when overcome by methane after climbing into a tank at nearby Mountainview Mushrooms, which was found to be lacking first aid procedures as well. No further details were available, except that it took that company four years to achieve compliance for their own exposure control plan.
It wasn't until after the fatal incident in Langley that officials took a close look at safety in the mushroom industry.
On Sept. 5., 2008, Han Pham, Ut Van Tran and Jimmy Chan, workers at now-bankrupt A1 Mushroom Substratum Ltd., were killed after breathing in hydrogen sulphide and ammonia while in a pump shed at a facility in Langley. Michael Phan and Thang Tchen survived but with severe brain damage.
After the deaths, which prompted a two-year investigation and a coroner's inquest, WorkSafeBC inspected the province's five mushroom composting facilities and close to 40 white mushroom farms. It also renewed enforcement of the Workers' Compensation Act regulation requiring employers to create and maintain an exposure control plan to educate workers on safety when there are toxic gases in the workplace.
A now-retired B.C. environmental worker, who also had a role in monitoring the farms, said the previous incidents should have raised a "red flag" for regulators and industry.
Linda Vanderhoek, who worked for the Ministry of Environment for 37 years before retiring in January, said she regularly visited both A-1 Mushrooms and Central Composting as an environmental protection officer. She knew about the problems at the Langley farm but was shocked to learn a worker had previously fainted at Central.
She said a "heads-up" from WorkSafe to inspectors and industry would have been helpful, to send a message the job sites could be unsafe.
But there's no formal mechanism to relay the information, especially across departments, Vanderhoek noted. "Each agency has their own mandate and there should be better communication among us, I guess."
It should have been "a red flag for something that killed people six weeks later," Vanderhoek said.
WorkSafeBC said there was ( Read more . . . )
Source: Vancouver Sun