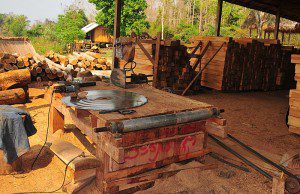 Sawmills in B.C.'s Interior were warned wood dust was an explosive risk before two deadly sawmill explosions earlier this year, in which wood dust is suspected as a factor.
But the advice took a back seat to concern that dust was harmful to workers' lungs.
In thousands of pages of 2007 to 2011 WorkSafeBC inspection reports, obtained by The Vancouver Sun under a freedom of information request, wood dust was highlighted as a concern nearly 100 times, primarily as a health risk and possible carcinogen.
Forest companies, the United Steelworkers union and individual workers at the two mills that exploded have said the risk of wood dust explosions wasn't widely known, but WorkSafeBC inspection reports show that multiple warnings were issued to a number of mills before the two deadly explosions.
United Steelworkers union safety specialist Ron Corbeil said it now appears there was enough information known – which also included warnings coming out of the United States – that more attention should have been paid to wood dust's explosive potential.
"It's really unfortunate it's taken two mill explosions to really get British Columbia's attention," said Corbeil.
The union official is referring to dust explosions in the U.S. that killed 119 people and injured 718 between 1980 and 2005, outlined in a U.S. federal Chemical Safety Board report. In 2008, another 14 workers were killed in a dust explosion at a sugar refinery in Georgia.
WorkSafeBC was aware of the U.S. deaths, saying it sponsored a combustible dust workshop in 2010 because "it is also a concern in B.C. workplaces."
The inspection reports show wood dust was enough of a respiratory health concern in sawmills that it was part of WorkSafeBC's provincial high risk strategy in 2009.
WorkSafeBC tested airborne levels of wood dust, but also required mills do so, according to the inspection reports.
And while the ensuing reports noted wood dust was an explosive hazard, WorkSafeBC did not set safety limits for accumulation at that time.
The inspection reports show that 10 times, saw-mills in Elkford, Grand Forks, Merritt, Quesnel and Fort St. John were warned of wood dust's explosive capacity.
WorkSafeBC regional manager Bruce Clarke said there wasn't a bigger push on companies to take action to reduce explosion risks, simply because a sawmill had never blown up in British Columbia.
"I have been in the industry and around the industry for 44 years, and I've never seen a mill blow up," said Clarke, the prevention man-ager for northern B.C.
Standards addressing the explosive dangers of wood dust were not set until after the second deadly explosion in April of this year.
The new rules specified that more than one-eighth of an inch of dust (about the width of a dime) covering five per cent of the saw-mill area constitute a combustible hazard.
Clarke admitted that before the dust guidelines were added, WorkSafeBC's regulations were "weak" around enforcement of fire and explosion hazards.
And Clarke stressed the B.C. Fire Commissioner's office remains the main authority on issues such as the risk of dust explosions in mills.
The WorkSafeBC records show the Elko sawmill at Elkford, about 100 kilometres northeast of Cranbrook in B.C.'s southern Interior, was warned in four separate inspection reports between January and November 2011 about the danger of wood dust explosions.
On Jan. 27, 2011, a Work-SafeBC official noted that "wood dust [was] dispersed and accumulated about many levels" of the sawmill on equipment, handrails and rafters.
Health effects had been reported by workers, and WorkSafeBC told the saw-mill that it needed adequate ventilation to keep exposure below harmful levels.
But WorkSafeBC also told the sawmill that "wood dust is a combustible dust and must be controlled to minimize the risk of fires and explosion."
Despite the repeated WorkSafeBC warnings and the fact that some mill workers who trained as firefighters for the mill had seen videos of dust explosions, generally workers at Elko still "couldn't grasp the ( read the full story … )
Source: The Vancouver Sun