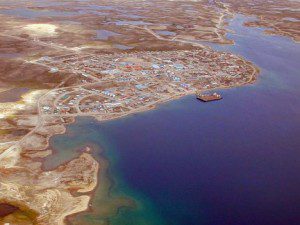 Sabina Gold & Silver Corp (SBB.T) is pleased to announce that the Company has begun drilling at its 100% owned Back River gold project, Nunavut.
As previously announced, Sabina has committed to a significant work program on its 100% owned Back River gold project for 2012. The Company has recently opened the camps at George and Goose where resupply efforts continue and drilling has begun.
Sabina ended 2011 with a solid cash position of $160 million. In 2012, the Company plans to spend approximately $70 million on its exploration programs, environmental and engineering work and G&A. Approximately $60 million of this budget will be focussed on advancing the existing Back River resource towards development as well as looking for new discoveries on the Back River claims and Wishbone.
"We are very excited about the aggressive program that we have planned for 2012 to follow up on the tremendous success we had in 2011" said Rob Pease, President & CEO "Our drilling budget will be split approximately 40% on working to extend existing resources at Llama and Umwelt, 30% on conversion drilling looking to upgrade inferred resources into indicated resources. The remaining budget will focus on looking for new gold discoveries by applying our exploration toolbox to our Wishbone, Goose, George and Boulder Pond properties. Mobilization has gone well and we began drilling one week ahead of last year's campaign. "
Further Addition to the Management Team
The Company is pleased to announce that Mr. Jason Hynes will be joining the Company effective March 6, 2012 as Vice President, Corporate Development. Jason's role will include exploring how the Company's assets, particularly its significant silver royalty on Hackett River, could play a role in reducing the financing and development risk at the Back River project.
Mr. Hynes spent the past seven years assisting mining companies in investment banking at National Bank Financial's Mergers & Acquisitions group in Toronto in 2005 before moving to their Global Mining & Metals group in 2006 where he was most recently a Director in the Vancouver office. Jason holds an Honours B.Sc. (Elec. Engineering) from Queen's University at Kingston and an MBA from the University of Toronto's Rotman School of Management.
Mr. Hynes is the third addition to the management team in the last seven months.
Matthew Pickard joined the Company on August 8, 2011 as Director of Environmental and Community Relations. Mr. Pickard is a Professional Geoscientist with over 12 years of experience in environmental, health and safety management within the mining industry most recently with Baffinland Iron Mines Ltd in Nunavut. Mr. Pickard Nunavut experience is invaluable to our permiting efforts at Back River.
In September, 2011 Mr. Leon Coetzer joined the Company as Vice President, Engineering and Project Development. Mr. Coetzer has a broad background including, among other things, working on the re-opening of the Black Angel Mine in Greenland. Leon brings an extensive background in working on remote projects covering a variety of technical areas.
"We are very pleased to have Jason joining our expanding team as we push Back River towards production." Said Rob Pease, President & CEO. "Our team brings a wealth of experience to their roles in the Company's growth."
Working in the Canadian North
The last few weeks of Sabina trading has seen some significant pressure on our share price. In our view, this seems to be the culmination of negative market sentiment regarding two Arctic projects that have been experiencing challenges with their operations.
Agnico-Eagle's ("Agnico") Meadowbank gold mine has experienced higher than expected operating costs resulting in targets not being met and reductions in grade and mine life (see Agnico press release dated Feb. 15, 2012). Despite Agnico's issues at the Meadowbank mine, its higher-grade Meliadine project, also located in Nunavut, continues to grow and meet permitting targets (see Agnico press releases dated Feb. 15 and Feb. 21 2012).
Newmont Mining also recently announced that they were putting their Hope Bay gold project in Nunavut on care and maintenance.
Without minimizing the costs and challenges of operating in such a remote location, we believe there are clear differences between Back River and these other projects.
"There is no question that the Arctic environment is challenging, however, it is no more so than working in any other remote region in the world that lacks infrastructure and power." Said Rob Pease, President and CEO "What is clear is that successful projects need to have sufficient grade, width, continuity and mineability to support the project requirements and infrastructure. Back River's grade is significantly higher than that of Meadowbank or Hope Bay. High grade combined with mining widths which average ~25 meters and shallow plunging deposits at the Goose claim block provide the foundation for what we believe will be a successful mining operation at Back River."
+5 Million Ounce deposits in Canada
The existing resource at Back River appears to be amenable to both open pit and underground mining. The current production concept for Back River contemplates a through put of between 5,000-6,000 tonnes per day for annual gold production of between 300,000 and 400,000 ounces of gold per year. This profile envisages a relatively small footprint that would see Dore flown from the mine to refineries in the south.
The project also has other opportunities. There remains considerable upside exploration potential for new gold discoveries on the project as only a fraction of the land package has been explored. Also, Sabina's properties are adjacent to the Hackett River silver-zinc project, recently sold by the Company to Xstrata Zinc Canada. The very significant silver royalty held by the Company (22.5% of the first 190 million ounces of silver produced at Hackett and 12.5% on any silver produced thereafter) offers opportunities for future cash flow or a potential means to finance a portion of the projects future development. The value and optionality of Sabina's royalty on Hackett River should increase as Xstrata moves the project forward.
Perhaps the best proof of profitable mines in the Canadian North is to look at mines that have or are still producing successfully. As the map below illustrates, these include Diavik, Ekati, Snap Lake, Lupin, Xstrata's Raglan Mine, Polaris, Nanisivik, Pine Point, among others located in the far north around the world.
SABINA GOLD & SILVER CORP
Sabina Gold & Silver Corp. is an emerging precious metals company with district scale, world class undeveloped assets in one of the world's newest, politically stable mining jurisdictions: Nunavut, Canada.
Sabina's primary properties consist of the Back River Gold Project, the Wishbone Claims, a vastly prospective grass roots project and the Hackett River silver royalty all located in Nunavut. The Company sold the Hackett River project and certain claims in the Wishbone greenstone belt to Xstrata Zinc Canada Division (Xstrata) for which the Company received $50 m cash and a silver royalty on Xstrata's Hackett River silver production of 22.5% of the first 190 million ounces produced and 12.5% of all silver produced thereafter.
For further information please contact:
Nicole Hoeller, Vice-President, IR:
1 888 648-4218
nhoeller@sabinagoldsilver.com
Forward Looking Statements
Statements relating to exploration, work on the Company's natural resource properties and the expected results of this work are forward-looking statements within the meaning of securities legislation of certain Provinces in Canada. Forward looking statements are statements that are not historical facts and are generally, but not always, identified by the words "expects," "plans," "anticipates," "believes," "intends," "estimates," 'projects," "potential" and similar expressions, or that events or conditions "will," "would," "may," "could" or "should" occur. Information inferred from the interpretation of drilling results may also be deemed to be forward looking statements, as it constitutes a prediction of what might be found to be present when and if a project is actually developed. These forward-looking statements are subject to a variety of risks and uncertainties which could cause actual events or results to differ materially from those reflected in the forward-looking statements, including, without limitation: risks related to fluctuations in metal prices; uncertainties related to raising sufficient financing to fund the planned work in a timely manner and on acceptable terms; changes in planned work resulting from weather, logistical, technical or other factors; the possibility that results of work will not fulfill expectations and realize the perceived potential of the Company's properties; risk of accidents, equipment breakdowns and labour disputes or other unanticipated difficulties or interruptions; the possibility of cost overruns or unanticipated expenses in the work program; the risk of environmental contamination or damage resulting from Sabina's operations and other risks and uncertainties, including those described in Sabina's Annual Report for the year ended December 31, 2010.
Forward-looking statements are based on the beliefs, estimates and opinions of Sabina's management on the date the statements are made. Sabina undertakes no obligation to update these forward-looking statements should management's beliefs, estimates or opinions, or other factors, change.
This news release has been authorized by the undersigned on behalf of Sabina Gold & Silver Corp.