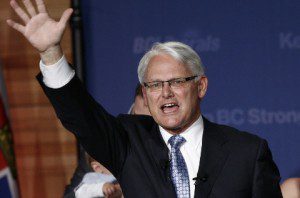 Although former premier Gordon Campbell disagrees with a WorkSafeBC ruling concerning the death of a roofer at his vacation home, he said Tuesday he will not appeal it.
Now Canada's high commissioner to the United Kingdom, Campbell said he's more worried about the family of David Lesko, the roofer who died after falling through an open skylight during renovations on the Sunshine Coast home last July 4.
"Throughout this, my concern has been for the worker's family, for his friends, colleagues and fellow workers on the site," Campbell said in an email to The Vancouver Sun.
On Monday WorkSafeBC made public an investigation into the accident. It said Lesko, an experienced roofer with Weather Tight Supplies of Sechelt, was wearing a fall arrest harness but hadn't hooked it into an anchor line. He fell nearly 18 feet to his death.
The investigation revealed that Campbell had not assigned the role of "prime contractor" to any of the companies working on the renovations, and by default was responsible for ensuring all the workers complied with health and safety regulations.
WorkSafeBC said it is considering financially penalizing Weather Tight, and that Campbell would be issued an order but no penalty.
Paul Devine, a Vancouver lawyer who specializes in health and safety law, said most people have no idea they need to assign prime contractor status to a company working on their property, or that they could be held financially liable for any injured workers who aren't registered with WorkSafeBC.
Campbell, who lives in London, said he ( Read More … )
Source: Vancouver Sun