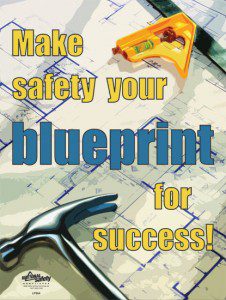 Developing a safety training blueprint can help ensure that training goals are met and all employees who need to be trained learn all they need to know.
When you're preparing a new training program, you need to begin by researching exactly what your training needs are, who specifically needs to be trained, and how best to train them. We've covered each of these activities in previous Safety Training Tips.
Once you've compiled all this information, you need to use it to develop a plan of action. Here's a suggested strategy for developing your training blueprint:
Set specific goals to meet each training need you've identified. Here's how:
Use quantifiable measurements for the accomplishments you want employees to achieve after training, such as an increased production quota or decreased injury rates.
Use charts, graphs, and tables wherever possible to show management specific numbers and trends that your training program will achieve. For example, chart the increased productivity curve you plan to reach with your training, or graph the injury rate you hope to achieve.
Set realistic targets that are achievable, but not necessarily easy to achieve. Know your trainees well enough to know how to challenge them to reach for more effective performance. For example, look at the highest production peak employees have ever achieved, even if it was only one time, and set your target slightly above this point. Employees know they can achieve it because they already have. But they also know it's challenging to accomplish.
List everyone who needs to be trained in each topic area.
Use these lists to help you customize your training to your audience.
Prepare trainees by communicating before sessions with prequizzes, agendas, or requests for specific areas trainees want addressed in the training.
Set up a training schedule.
Make a master schedule of all the training you want to conduct for this month or this year.
Within the master schedule, set specific dates for each session.
Include makeup dates for trainees who cannot attend scheduled sessions.
Use a logical progression for multipart training; make sure sessions aren't too far apart that trainees forget the first training or too close together that trainees suffer information overload. Also allow time for trainees who want more training in the first session to receive it before the next session is held.
Choose the appropriate method(s) for each group of trainees in each topic area.
Plan to use more than one training method for each topic to ensure that you reach all the types of learners in the session.
Plan flexibility into your use of materials so that you are prepared for technical difficulties or other problems.
List the materials and methods you plan to use in each session.
Once you have all this information collected and organized, you are in great shape to begin developing the specifics of your training sessions.
Source: BLR  – Safety Daily Advisor