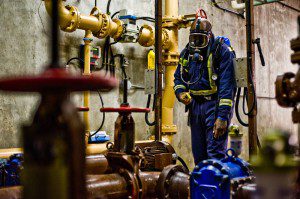 Brady's G-CSP solution is presented in a worker-friendly, visually-instructive format that ensures hazardous and potentially hazardous confined spaces are always entered properly and safely.
Brady's service professionals will visit your facility to audit the confined- and potentially-confined spaces in your facilities. Brady then develops the visual procedures that will provide for safe entry. These documented procedures include:
Identification of hazards and potential hazards.
Visual images locating the hazards which may be present.
A listing of all required equipment and safety devices necessary to enter a confined space.
Documentation of methods to protect employees from confined space hazards.
Verifications to ensure that authorized entrants are safe to enter and work in confined spaces.
Specific confined space procedures are produced for each of your identified confined spaces; providing both full compliance with OSHA and best safety practices.
Contacting your Safety Supplier, you'll be able to connect with a Brady Representative who will help your company with compliance and safety for Confined Spaces.