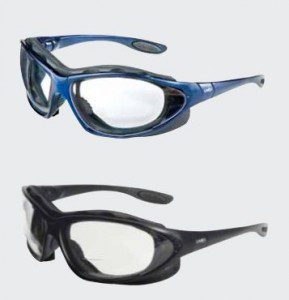 At work each day, many brands and styles of safety glasses and eye-face protection are handled and sold. Quite often, the driving factor is budget. With so many low-cost glasses available on the safety market, it has become more economical for many to purchase the two-dollar variety as needed. Too often, a transient or careless worker results in another pair gone for good. It wouldn't be so bad if people took care of them.
That's where cool and comfort come in; when a pair of safety glasses or safety goggles perform exceptionally well, while looking and feeling good, ownership value increases. Take a closer look:
Uvex Seismic…powerful sealed eyewear for today's demanding work environments. Delivering unmatched protection against impact, sun, wind, dust and debris, Uvex Seismic sealed eyewear is available with both standard lenses and reading magnifiers to address the needs of today's workforce. With its flexible design, contemporary styling and high quality details, the Uvex Seismic delivers the perfect combination of superior protection and all-day comfort that workers deserve.
This high-performance model can help improve productivity as well as lower the cost-of-ownership over time with our renowned Uvex® coatings and a cost effective replacement system. The Uvex Seismic promises to be a strong addition to your protective eyewear program and one more way Uvex is helping you build a culture of safety in the workplace.
The stories are heard everyday, about this particular brand and style of safety goggles. You might want to check them out for yourself. Whether for work or play, you'll definitely appreciate and value these exceptional glasses/goggles. I see them as glasses, they sell them as goggles. Less than $15.00.
Great for snowboarding too!