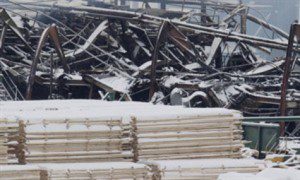 The Canadian Press
BURNS LAKE, B.C. — Sawmill employees being interviewed by police after a Friday night explosion levelled their workplace and killed two are telling police about safety concerns.
RCMP Const. Lesley Smith said Tuesday officers plan to speak to everyone who worked at the mill about the day of the disaster and the days leading up to it.
"Witnesses have been coming forward with concerns they've had in the past and those are being brought forward not only to RCMP investigators, but also to the WorkSafe BC investigator," said Smith. "All that information is pertinent in finding out what the cause of this explosion was."
The mill was destroyed Friday night, injuring 19, some critically, and leaving about 250 people jobless.
Survivors recall seeing ( read full story )