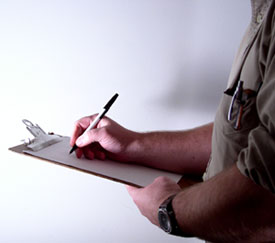 If a recent OHS-related case in Nova Scotia is any indication, health and safety officers may now be required in the eyes of the law to go beyond their traditional duties and responsibilities to help mitigate risks. One health and safety coordinator had to learn this the hard way: through a conviction.
Last September, James Della Valle, health and safety coordinator at the Cape Breton Island Housing Authority (CBIHA), was found guilty of failing to "take every reasonable precaution" to protect the safety of employees and tenants after tests showed that vermiculite insulation used in housing unit attics contained asbestos.
The charge, laid in July 2010 under the province's Occupational Health and Safety Act, related to the months between October 2005, when Della Valle received the test results, and April 2006, when the results became known to the CBIHA director and the first steps were taken to remove the insulation.
Della Valle pleaded not guilty, saying that when he received the information, he fully informed two maintenance supervisors — Darrell McNeil, who worked at CBIHA, and Todd Routledge, who worked at another housing complex in Sydney — of the test results and of the remedial measures recommended by the testing company. He said he was never involved in making decisions nor had anything to do with implementing follow–up measures. He assumed those he had informed would do the necessary work.
Judge A. Peter Ross found Della Valle guilty on the grounds that he had a general duty to inform others where there was a risk. He said the OHS coordinator should have circulated the test results more widely and "ensured that appropriate action of some sort was in fact instigated."
According to the decision, Della Vella had a duty to act because a "potential health hazard" had been identified. "Where someone in the position of the defendant has knowledge of a possible danger from a credible source, this alone may precipitate a duty to take positive preventive measures," it said.
But David Law, an Ottawa-based partner at Gowlings law firm and who has practiced occupational health and safety law for 24 years, said that in requiring Della Valle to go beyond his job description and even his authority, the verdict puts an unprecedented onus on safety managers.
"His defence was 'I went to the outer limits of my job and I did my job, and that should be enough.' And the court seems to say, 'no,'" he said. "I read that decision as saying that you can't just stay within the four corners of your job. You have to go beyond it, if there's a risk."
Beyond work duty
In his decision, Ross argued that Della Valle should have followed up with McNeil and Routledge. Since the insulation was not being removed, he should have reported the situation to his immediate supervisor and to the joint health and safety committee.
This suggests that the judge thinks Della Valle should have told somebody that his bosses weren't doing anything, Law said. The senior person, McNeil, who was also convicted, admitted in court that he was responsible. In the decision, he is quoted as saying, "the buck stops with me."
"And yet," Law said, "the court says you [Della Valle] should have done more; you should have chased McNeil and Routledge. It's asking a junior person to chase their boss."
"There's an element of that which is acceptable, but I feel this decision may ask too much of individuals. It seems to say that our legal duty is greater than our work duty, and we could be at risk of failing legally if we don't go outside our authority at work."
Pat Murphy, regional director for the eastern region of the OHS unit of Nova Scotia's Ministry of Labour and Advanced Education, said Della Valle was charged because he failed in his duty as an employee, not as safety coordinator. While the province's OHS Act does not have a general duty clause for safety supervisors, it does include such a clause (Sect. 17) for employees.
"He's not a supervisor, he's not an employer and he's not a constructor or contractor. He was strictly an employee," he said. "And in this case it was deemed there was a significant failure in the general duty of the employee."
Murphy pointed out the verdict reinforces the importance of the internal responsibility system (IRS), which obliges all employees to take every reasonable precaution to ensure ( continue reading article )
Source: Canadian Occupational Safety