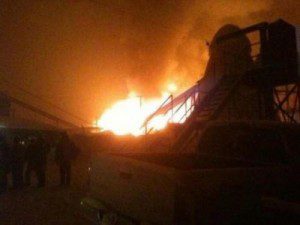 RCMP say two people are still unaccounted for after an explosion destroyed the Babine Forest Products mill in Burns Lake last night. North District RCMP spokesperson Constable Leslie Smith says fire crews are still trying to extinguish the flames, and expects it to be at least another day before investigators are able to enter the building.
"At this time the cause is still unknown," says Smith, "But we're taking lots of interviews and talking to a lot of witnesses that have some key component information for us that can assist us with the investigation."
Northern Health has confirmed nineteen people were injured and sent to health centers for care, with some being transferred to Edmonton and Vancouver. The injuries range from minor to severe. RCMP say 30 people were registered to be on shift when the fire occurred. The Hampton Affiliates-owned mill employed a total of 250 people.
Smith says emergency personnel, RCMP,  Work Safe BC and the Fire Commissioner's Office are working together at the scene.
A gathering place for families of those injured and concerned residents has been sent up at Margaret Patrick Memorial Hall. Grief counsellors are available. Those wishing to volunteer or donate food or supplies are asked to go to the hall, or contact Bertha Mitchell at 778-669-0061.
Source: Prince George's Online HQ (see more related news coverage)
YouTube Feature: The Mill the Day After the Explosion