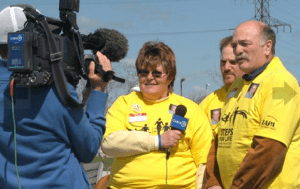 You can support families of workplace tragedy by donating to Threads of Life or sponsoring a walker, walking, registering a team, committing as an event sponsor, and volunteering.
Steps for Life is the primary fundraising event for Threads of Life, a national Canadian charity providing support programs and services to families affected by a workplace fatality, life-altering injury or occupational disease.
The annual 5 km walk is held the first Sunday in May (in most communities – check your location), which traditionally kicks off North American Occupational Safety and Health (NAOSH) week.
On May 1, 2011 more than 4,400 people in 37 communities across Canada walked together to support families affected by workplace tragedies. They walked together to raise awareness about the importance of workplace health and safety and that everyone should return home safe at the end of their work day. More than $333,900 was raised in cash donations.