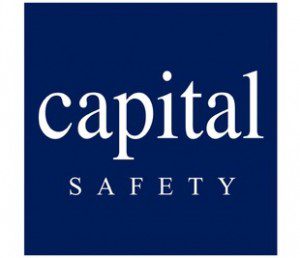 NEW YORK–(BUSINESS WIRE)–Global investment firm Kohlberg Kravis Roberts & Co. L.P. (together with its affiliates, "KKR"), today announced the signing of a definitive agreement to acquire Capital Safety, a leading provider of fall protection equipment ("FPE"), from Arle Capital Partners, for $1.12 billion.
With roots dating back to 1938, Capital Safety is a global leader in the design and production of FPE solutions for workers at height. A subset of the $20 billion safety equipment sector, FPE is a rapidly growing industry driven by rising social and regulatory focus on worker safety, in addition to underlying growth in key end-markets across developed and emerging geographies.
Capital Safety's industry-leading products and solutions, which include harnesses, lanyards, self-retracting lifelines and engineered systems, are sold through the globally recognized brands DBI-SALA, PROTECTA and UNILINE. These iconic brands are highly valued by end-customers and renowned for their emphasis on quality, functionality, reliability and innovation. Ultimately, Capital Safety's products bring workers at height home safely after every workday.
"We see attractive growth prospects for the safety equipment industry overall, but we believe fall protection is particularly attractive because of the segment's weighting towards energy and infrastructure and because of the potential for future growth due to further development of safety regulations, particularly in emerging markets, and increased compliance globally. As a market leader with a highly focused business model and outstanding relationships with both distributors and end-customers, Capital Safety is well positioned to capture the significant secular growth ahead of it. In addition, the management team is exceptionally broad and deep, and has a real "can do" attitude, culture of innovation, and richness of end-customer insight that sets it apart from the competition," said Pete Stavros, a Director in KKR's Industrials group.
The closing of the transaction, expected to be in January, is subject to customary closing conditions, including regulatory approval.
Morgan Stanley & Co. LLC acted as financial advisor to KKR. Fully committed financing will be provided by UBS Investment Bank, Morgan Stanley Senior Funding, Inc., and KKR Capital Markets, an affiliate of KKR, in the form of senior secured credit facilities. KKR Capital Markets also arranged financing in the form of senior unsecured notes with Crescent Capital Group.
Latham & Watkins LLP served as legal counsel to KKR.
About KKR
Founded in 1976 and led by Henry Kravis and George Roberts, KKR is a leading global investment firm with $58.7 billion in assets under management as of September 30, 2011. With offices around the world, KKR manages assets through a variety of investment funds and accounts covering multiple asset classes. KKR seeks to create value by bringing operational expertise to its portfolio companies and through active oversight and monitoring of its investments. KKR complements its investment expertise and strengthens interactions with investors through its client relationships and capital markets platform. KKR is publicly traded on the New York Stock Exchange (NYSE: KKR). For additional information, please visit KKR's website at www.kkr.com.
About Capital Safety
Capital Safety, one of the world's leading manufacturers of fall protection, confined space and rescue equipment, with 20 operating sites worldwide and a passionate commitment to quality, innovation and safety, is home of the DBI-SALA, PROTECTA and UNILINE brands. All of Capital Safety's fall protection and rescue systems are backed by extensive training, knowledgeable technical assistance and professional customer service. For more information, please visit www.capitalsafety.com.
Contacts