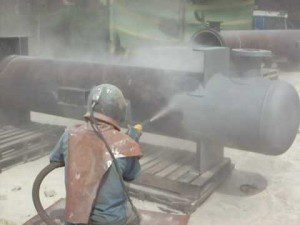 In a new health hazard evaluation (HHE) released Oct. 29, NIOSH personnel compared three methods for collecting personal breathing zone (PBZ) air samples for particulates during abrasive blasting at a shipyard. The evaluation was performed during outdoor abrasive blasting using coal slag, and NIOSH measured total dust and inhalable dust. NIOSH tested a 37-millimeter diameter filter cassette and both an unshielded and a shielded button aerosol sampler to collect side-by-side PBZ samples; the three methods were tested while connected to air sampling pumps and also without sampling pumps.
According to the report, all three sampling methods collected too much particulate, and overloading of air sample filters caused frequent sampling pump failures. NIOSH reported that the methods tested were "likely to overestimate air concentrations" and that the abrasive blasting environment often caused the sampling pumps to disconnect or turn off.
The report concluded, "Sampling methods that do not overload and prevent large particulate from entering the device [in an abrasive blasting environment] have not been developed. This is needed for accurate measurements of employee exposures during abrasive blasting operations." Read the full report.
View more NIOSH HHE reports on the agency's website.
Source: AIHA