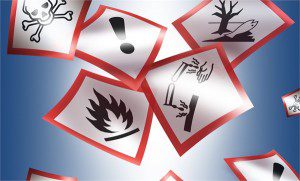 The course familiarizes workers with the HazCom system used across the United States and the world, to provide safety information and training about hazardous chemicals in their workplaces. Participants will learn about the Hazard Communication Standard 2012 (1910.1200) which adopted the "Globally Harmonized System of Classification and Labelling of Chemicals" (GHS). The course covers the pictograms (symbols) and their meaning, the labels on hazardous chemicals, the hazards of each class, and safety data sheets (SDSs).
The course integrates examples, practical advice, and interactive quizzes within the learning.
Topics include:
Components of the new label format
The new HazCom (GHS) classes and their pictograms
Safety data sheets (SDSs) and their format
Helpful resources
Upon completion of the course you will know how to:
Understand the labels
Recognize the pictograms (symbols) for each hazard class
Identify the hazards for each class
Understand the importance of the SDS
Find additional information about the hazards and protective measures from SDSs
Average time to complete this course is approximately 60 minutes.
For more details visit CCOHS "HazCom 2012 for Workers"