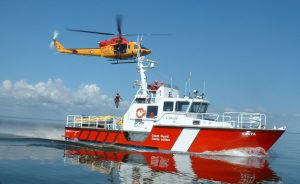 The Honourable Keith Ashfield, Minister of Fisheries and Oceans, today reaffirmed that mariners in Vancouver will see no change in the excellent service Canadians have come to expect from the Canadian Coast Guard.
"The safety of mariners is the top priority of the Canadian Coast Guard and consolidating our Coast Guard presence in the Vancouver area will have no impact on safety," said Minister Ashfield.  "A new inshore rescue boat station that will be centrally located in Vancouver, a new hovercraft that will be delivered in 2013 and a more effective use of existing search and rescue resources will make sure the Coast Guard can react appropriately to keep mariners safe."
These resources will augment the Coast Guard's current on-water capacity.  When the changes are fully implemented, deployment capability will include: 7 large vessels, 6 small vessels, 2 hovercraft, 13 search and rescue lifeboats, and 6 helicopters.
The Canadian Coast Guard is currently studying the optimal location for the new inshore rescue boat station which will operate during the peak demand period when it is needed. The Coast Guard is also extending the Inshore Rescue Boat season in British Columbia. Operations will be from the May long weekend until after Labour Day.
"This adjustment to operational capacity simply reflects a better use of search and rescue resources consistent with all major ports in Canada," said Minister Ashfield. "Our Government has time and again demonstrated our commitment to the safety of mariners through sustained investment in frontline resources for the Canadian Coast Guard to ensure they have the tools and training that they need."
The Government of Canada has recently made unprecedented investments in the protection of Canadians at sea, including:
Over the past 6 years, close to $1.4 B to ensure the Coast Guard fleet is ready to serve Canadians when called upon.
As a part of Canada's Economic Action Plan 2010, the Government of Canada invested $175 million in the Canadian Coast Guard to procure 68 new small vessels, 30 environmental barges, and to undertake major repair work on 40 of its largest vessels.
Many of these investments have benefited mariners in British Columbia and the vessels that serve them, including:
Addition of 3 new 47-ft motor lifeboats:  CCGS CapePalmerston, CCGS CapeNadenand CCGS CapeDauphin;
Vessel life extensions of the CCGS Bartlett and the CCGS Tanu; and
Vessel refits of six vessels on the West Coast
Economic Action Plan 2012 has also signalled further significant investments to the Canadian Coast Guard to revitalize the Canadian Coast Guard Fleet.
For additional information please consult: Search and Rescue BC.
Source: Canada News Centre