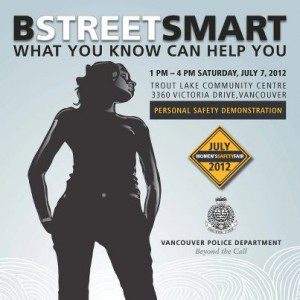 Vancouver Police will hold its first ever women's safety fair designed to give women the tools to protect themselves and raise awareness about community resources.
The fair will feature numerous information booths by community groups and a women-only personal safety demonstration by the VPD.
"At the heart of the presentation, we're going to be teaching awareness of environment, mindset … and some physical skills that are simple enough to learn and understand just to get out of a questionable or dangerous situation," said Sgt. Colleen Yee of the sex crimes unit.
Yee said the fair follows the success of the VPD's Don't Be That Guy campaign last year.
According to VPD stats, there have been 143 cases of sexual assaults in the first three months of 2012.
Anna Foschi, with the Vancouver/Lower Mainland Multicultural Family Support Services Society, said it is essential for women and their children to have ( Read more … )
Source: Metro