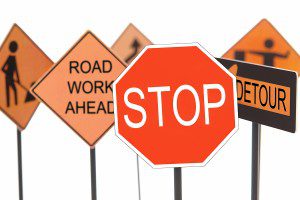 New Westminster, B.C., May 31, 2012 — the BC Construction Safety Alliance applauds new signs in English and Chinese featuring near-life-sized photos of local construction workers to encourage drivers to reduce their speeds when passing through roadside construction zones. The signs, which will go up today near Aberdeen Mall in Richmond, are part of the province-wide Slow Down project, aimed at improving safety for roadside workers.
As the province-wide certifier of Traffic Control Persons (TCPs) road safety is very important to the BCCSA. The BCCSA recognizes the need to make safety messaging accessible to BC's diverse communities and is especially proud to be partnered with WorkSafeBC, Graham Construction, the City of Richmond, and S.U.C.C.E.S.S. on this Slow Down initiative, the first campaign of its kind in the series of Slow Down campaigns. For the first time, each sign is being presented in two languages, in an effort to reach as many drivers as possible. The Slow Down message has been translated into traditional Chinese in recognition of Richmond's large immigrant population. The Slow Down initiative began in July 2007 and has been a fixture at a number of jobsites across the province. This is the first year Richmond has taken part in the project.
BC Construction Safety Alliance Executive Director Mike McKenna says "Every worker has the right to come home safe from work. Construction companies make an effort to keep worksites safe, and drivers need to do their part to make sure no-one gets hurt at the side of a road. If these signs prevent even one worker from getting injured, then they've made a huge difference."
Graham Construction Vice-President Wayne Henderson understands the pictures of real workers are what make the Slow Down signs so effective. "Seeing a worker with his or her family is something that can make a powerful connection with drivers. This could be their neighbour or someone else in their community. Drivers will understand how many lives are affected by the simple decision to be more careful when they see workers at the roadside."
WorkSafeBC Director of Worker and Employer Services Al Johnson agrees drivers need to realize how dangerous it is for workers at the roadside. "Construction workers, traffic control persons, truckers, public works staff, emergency services personnel, and others work close to traffic, which puts them at risk. Over the past decade, workers across the province have filed nearly 400 claims after being hit by vehicles, typically while labouring at the side of the road. Half of them suffered serious injuries, and several died. All of these incidents could have been prevented."
The bilingual signs will be posted in the work zone from now through February 2013, when the construction project is expected to be completed.
The BCCSA is BC's provincial construction safety association working for and with industry to reduce injuries and improve safety for over 39,000 construction employers and 180,000 workers in British Columbia. The primary goal of the BCCSA is to ensure jobsites in BC are as safe as possible by offering a range of programs and services to both employers and workers that focus on injury prevention and creating or enhancing a culture of safety on construction sites. The BCCSA was born out of industry's need for a primary voice for safety that is focused on injury prevention.
Source: Vancouver Regional Construction Association
To arrange an interview or for more information, please contact:
Alicia Brady-Deaust
Communications Coordinator
BCCSA
Tel: 604-636-3679
Cell: 604-219-7889
abrady@bccsa.ca