By Tony LaRussa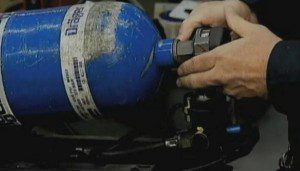 A South Oakland company that makes air packs for thousands of fire departments in the United States and abroad says reported breakdowns of its gear that left firefighters gasping for air resulted from improper maintenance, not design or manufacturing flaws. The National Institute for Occupational Safety and Health, under the Centers for Disease Control and Prevention, in March began investigating the air packs made by Draeger Safety Inc. because DeKalb County Fire Rescue Department in Georgia reported that mouthpieces on the devices fell off.
"This can be life or death," said Edward O'Brien, DeKalb's fire chief.
Firefighters in Phoenix, Anchorage, Alaska, and Vancouver, British Columbia, reported losing clean air while wearing Draeger air packs, according to published reports.
"We have been in communication with the requesting fire departments," said Christina M. Spring, a CDC spokeswoman. "We have requested respirators to investigate their performance and are waiting to receive the requested respirators to conduct further tests."
Draeger is cooperating and confident that investigators will find its equipment safe and in compliance with standards, said Tim Martin, a company spokesman.
Ralf Drews, Draeger's CEO, said company technicians conducted extensive testing and determined the equipment operates properly.
"We have attempted to replicate the alleged instances of product malfunction … but could not," Drews said in an emailed statement. "Technicians analyzed our equipment but could find nothing wrong with its engineering or design.
"The only conclusion we can draw is that the reports of product malfunction in DeKalb County stem from improper product maintenance and care."
Drews said the company's investigation of two reported problems with its equipment in Phoenix showed they resulted from "improper field use of the equipment."
The company determined that problems reported by firefighters in Alaska and British Columbia were "noncritical, low-order issues that may happen with any product and are not in any way dangerous or life-threatening to firefighters," Drews said. He did not specify those problems.
Source: Pittsburgh Tribune-Review