By David Bingham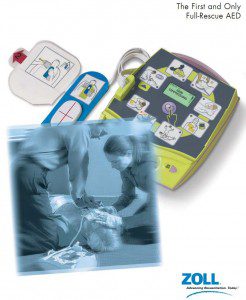 An employee at an office building suddenly collapses at his workstation. Nearby employees call 911 and perform cardiopulmonary resuscitation but hesitate to use a nearby automated external defibrillator. When paramedics arrive 10 minutes later, they pronounce him dead. The cause of death was sudden cardiac arrest (SCA), which is a survivable event when the victim is shocked by an AED.
This scenario is not far-fetched. A 2010 study published in the Annals of Emergency Medicine found that more than half of respondents at an Amsterdam train station would be unwilling to use an AED during an emergency. Many survey respondents said they did not know how an AED works or feared harming the patient. Some also feared potential legal ramifications despite the existence of Good Samaritan laws.
Although AEDs greatly increase SCA survival rates when deployed, much still needs to be done to encourage use of these life-saving devices. New AED technology is making it easier for anyone to feel comfortable responding in an emergency situation.
Simplifying the Rescue Process
Research from the University of Washington's Department of Medicine showed that the speed of AED use by untrained children is only slightly slower than that of trained medical responders. The sixth-grade participants were first-time rescuers in a mock SCA emergency, yet they still were able to offer help in an average of 90 seconds. As this research convincingly demonstrates, virtually anyone can properly use and deploy an AED with minimal training. Just this fact alone should ease the fears of anyone hesitating to use an AED.
"Advancements to AED technology have been significant in recent years and are further encouraging bystanders of the ease of use of these life-saving units," said Lisa Levine, president of the Sudden Cardiac Arrest Association. "From improvements that prevent unnecessary shocks to picture and voice prompts, and even AEDs that operate in various languages, the industry is ensuring that laypersons will feel comfortable if and when they have to use a defibrillator."
Today, new technology in AED equipment includes features such as video instructions that enhance audio guidance on the necessary steps to take during a rescue. These instructions prompt the responder to call for help (dial 911) and then visually demonstrate the rescue process step by step. In essence, the AED acts as a "personal coach" until emergency responders arrive.
The video display illustrates where to locate the defibrillation pads on the unit, where they should be placed on the individual, and how to deliver CPR to the victim. Some AED models even provide feedback to the responder about the rate and depth of chest compressions to help the responder provide more effective CPR.
In addition to having concerns over how to properly deploy equipment, potential responders may also be concerned about causing additional harm to victims. Many people incorrectly believe AEDs can harmfully shock a victim, even though AEDs are designed to shock only individuals who are in cardiac arrest in order to reverse abnormal rhythms of the heart. For this reason, some responders may be hesitant to push the shock button. Now, however, AEDs have been introduced that come with an automatic shock option that, after correctly identifying the victim's heart rhythm, will deliver the life-saving therapy without any user intervention.
"Many times adults over-think the rescue process because an AED may be labeled with 'For Trained Personnel Only' or because they may fear the complexity or safety of the device," said Levine. "The most important step is overcoming these fears and taking action. Ultimately, creating a culture that understands what an AED is and how it is used will ensure that more lives can be saved."
Improving Unit Maintenance
Too often, facility managers assume that just purchasing an AED and having it on site will provide sufficient preparation for emergencies. However, ongoing maintenance is essential. AEDs are effective only if they are properly maintained with working batteries and pads.
A 2011 study published by the American College of Emergency Physicians found that dead batteries account for nearly 25 percent of AED failures. Batteries can last anywhere from two to seven years, depending on the brand, the environment (temperature and humidity) where the units are stored, and whether the unit is used frequently for training or for treatment of SCA victims. While all AEDs have an active status indicator that will alert owners visually and/or audibly of a low battery, one new model has a maintenance screen displaying the pad and battery expiration dates and the battery life remaining.
AED pads, which use gel to make contact with the victim's skin, also have a certain shelf life (typically from 18 to 30 months). Here, again, technology has been developed to improve AED operation and maintenance to avoid use beyond important expiration dates. AEDs notify responders if the pads are connected or are applied correctly on the victim's chest to maximize their effectiveness. Also, devices with "intelligent" pad technology detect when the pads need to be replaced based on their expiration date or whether the pads have enough gel to perform defibrillation. Owners are alerted by a flashing red light, an audible alarm like a smoke detector, or a warning indicator that appears on the unit.
Video prompts further assist in maintaining units, with visual guides of how to replace batteries and pads and how to upgrade the device's software. Recent improvements to the process of updating software mean that owners no longer have to send their units back to the manufacturer for updates, which could leave them without an AED until it is returned. Now, digital cards and USB ports allow owners to update their AEDs in the field by downloading software electronically. Enabling software to be upgraded in the field keeps AEDs in optimal working condition and on site at all times.
Straightforward Solutions
With advancements in voice prompts, video displays, and other user interfaces, new technology has made AEDs even simpler for anyone to use. However, technology itself is insufficient without regular upkeep. Business owners must continually ensure that units are in working order and that staff members receive training so they know how to deploy and maintain the equipment. They should place AEDs in central locations with signage that easily identifies the equipment and its purpose, much like wall-mounted cases for fire extinguishers.
Because SCA is frequent in public places and often occurs at a distance from immediate medical help, implementing an AED program that encourages early defibrillation is a smart precaution. With approximately one person dying every two minutes from SCA, an increased use of AEDs and a greater understanding of how they work may be the difference between saving a life and losing one.
Liability 101: Who's to Blame?
When SCA occurs, many bystanders believe there will be legal repercussions if they are unable to resuscitate a victim with an AED. In fact, there have been no successful cases reported to date where someone was proven liable for using an AED. Each state also has a Good Samaritan Law which protects laypersons from being held liable if injury or death results during an emergency. This protection is valid so long as the rescuer acts with good intentions to aid the victim to the best of his or her ability. On the other hand, a company without an AED on site may face a lawsuit should a SCA victim suffer extreme injury or death. In 2011, the parents of a teen-ager settled their $40 million lawsuit against a swim club that did not have an AED on location. By the time paramedics arrived 13 minutes later with a unit, the boy already had suffered extensive brain damage.
Source: OH&S