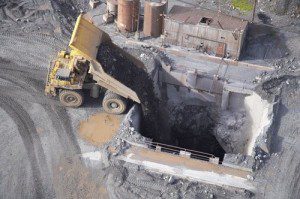 The Newfoundland and Labrador government announced Thursday that the Iron Ore Company of Canada (IOC) has been charged under the Occupational Health and Safety Act in connection with a fatal accident in Labrador City.
In the March, 2010 incident, two workers fell about 23 feet from a work platform that was being used to access spill chains. One of the workers died.
Spill chains are used to slow the speed of iron ore as it flows from the crusher to the ore car.
IOC's major shareholder and operator is British mining group Rio Tinto.
The firm was charged with five violations, according to a press release from Service NL, the provincial agency responsible for investigating workplace safety incidents.
"The five charges relate generally to the company's alleged failure to ensure that adequate fall protection was in place, that lockout procedures were in effect, that equipment was capable of safely performing the functions for which it was intended, that workers and especially supervisors were made familiar with the hazards likely to be met, and that training, supervision and facilities necessary to ensure the workers' safety were provided," Service NL stated.
According to its corporate website, IOC employs about 1,900. It operates a mine, concentrator and pelletizing plant in Labrador City, port facilities in Sept-Iles, Quebec and a 418-kilometre railroad between Labrador City and Sept-Iles.
Source: Daily Commercial News