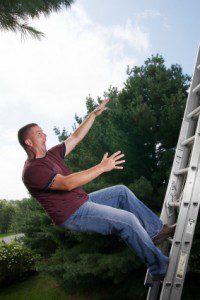 A New York ladder accident demonstrates the fall hazards common to the construction industry. When an accident happens, an injured worker may be able to obtain compensation for his or her injuries.
January 27, 2012 — Two recent construction accidents in New York demonstrate the fall hazards common in the construction industry. To help prevent construction accidents, especially falls such as ladder accidents, employers are legally required to provide fall protection at construction sites. Workers can help themselves to avoid these dangerous accidents provided they are given the safety measures to protect themselves.
In October 2011, a construction worker suffered fatal injuries after falling off the roof of a New York City church while performing restoration work. The New York Post reports that the man was standing on a ladder about 125 feet high when he fell while installing the safety net for work on the church's ceiling.
In November 2011, a 36 year-old construction worker died after suffering multiple traumatic injuries after falling over 50 feet from a roof at Chelsea Piers. The man was apparently blown off the roof in a strong gust of wind. The subcontractor he worked for had not provided him with any safety harness.
When a worker is injured from a fall at work, he or she may need additional compensation for his or her injuries. A New York City on-the-job ladder accident lawyer may be able to help when workers compensation simply isn't enough.
Construction Industry Fall Statistics
Unfortunately, falls and ladder accidents occur frequently in the construction industry. Statistics from the Occupational Safety and Health Administration (OHSA) show that falls from elevation account for one third of all work-related deaths in the business, causing 635 deaths in 2010.
Construction work is one of the most dangerous professions in the country, with conditions that frequently put workers at risk of suffering construction injuries on the job. In 2010, the construction industry had more fatal on-the-job injuries than any other industry in the U.S., according to the U.S. Centers for Disease Control and Prevention (CDC). Moreover, fatalities in the construction industry accounted for one of every five work-related deaths in America in 2009.
However, there are signs of declining fatality numbers. According to the U.S. Department of Labor's Bureau of Labor Statistics, fatal falls in the construction industry have declined by 2 percent from 2009 to 2010. And, since 2006, the annual sum of fatal falls in the construction industry has consistently gone down. This reduction in the number of fatal falls is likely explained by the reduction in hours worked in the construction industry, although it may also attributed to the sharp drop in construction work available during the recession.
Construction Site Fall and Ladder-Accident Risks
Construction sites typically are complex work environments where employees of many different employers are working at the same time in the same place. Depending on the construction project, the CDC reports that there may be many fall hazards at the job site, including:
Unstable, slippery, cluttered or crowded walking and work surfaces
Floor holes and unfinished flooring
Wall openings and unprotected edges
Unsafely positioned ladders and misused fall protection systems
The CDC attributes ladder accidents at constructions sites to three main mistakes by workers:
Failing to use the right ladder for the job: Sometimes using a mechanical lift or scaffolding is a better option than using a ladder. If using a ladder, accidents can happen when the ladder is too short or not placed at the proper angle.
Failing to properly secure the ladder: Both the top and bottom of the ladder should tied to fixed points so the latter does not slide sideways or fall backwards.
Carrying tools or materials when climbing the ladder: Tools and materials should be raised using a rope and pulley after the worker has ascended the ladder. Using one hand to carry items prevents the worker from always having three points of contact with the ladder, reducing stability and increasing the likelihood of a fall.
Unfortunately, workers aren't always properly trained on what safety measures they should be taking. Nobody should be confused into thinking workers are solely responsible for accidents. A contractor's failure to follow safety regulations, an improperly functioning ladder and inadequate safety equipment represents a significant number of injuries.
OSHA Fall-Prevention Regulations
Because job sites in the construction industry so often contain dangerous fall risks, the government has enacted regulations for construction-site safety to help protect workers from on-the-job injuries. In general, OSHA requires employers to provide working conditions free of known dangers and to select and provide personal protective equipment to workers for free. Specifically, OSHA also requires construction employers to take the following fall-prevention measures:
Guard every floor hole into which a worker can accidentally walk by using a railing and toeboard or a floor hole cover.
Provide a guardrail and toeboard around every open-sided platform, floor or runway that is six feet or higher off the ground or next level.
Provide safety harnesses and lines, safety nets, stair railings and handrails when appropriate.
Although employers must comply with OSHA regulations, OSHA inspectors frequently find violations at construction sites. In a review of more than 2,500 construction-site inspection records from 2003, analysts from the New York State Trial Lawyers Association and New York community organizations found that OSHA safety-standard violations were "widespread and serious" in New York.
The evaluation found that more than 80 percent of the construction sites inspected had at least one safety-standard violation. Further, almost one-third of the violations at New York construction sites were for failure to meet OSHA's scaffolding or fall-protection requirements, which was the most commonly cited violation.
An investigation into the death of the man working at Chelsea Piers revealed the subcontractor had failed to provide safety training and safety harnesses to their workers. Although OSHA is still investigating the accident, the subcontractor has a history of safety violations, including:
Using unsafe scaffolding ladders
Electrical problems
Failing to provide workers with proper safety and protective gear
Unsafe scaffolding
Using a problematic rough-terrain fork truck
Almost every violation against the subcontractor over the past twelve years included a failure to issue proper protective equipment to their workers and providing deficient equipment for completing the job.
Regardless of whether appropriate safety measures are taken, however, sometimes accidents happen. If you or a loved one was injured in a fall or ladder accident at a construction site, contact an experienced New York City construction accident lawyer. A knowledgeable attorney can review your situation and discuss your options with you.
Article provided by Law Offices Rosenberg, Minc, Falkoff & Wolff, L.L.P.
Visit us at www.nycaccident.com