Directly attaches to most harnesses to replace lanyard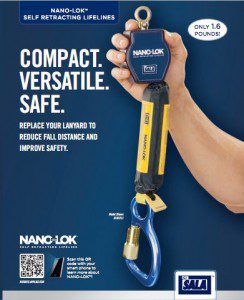 Red Wing, Minn. — November 21, 2011 — Capital Safety, home of the DBI-SALA, PROTECTA and UNILINE brands of fall protection equipment, introduces the new DBI-SALA NanoLok™ Self Retracting Lifelines (SRL). These new SRL's, an addition to Capital Safety's extensive line of industry-leading self retracting lifelines, can be used in place of lanyards and can be directly attached to any harness, reducing fall clearances. At only 1.6 lbs, the SRL's are virtually unnoticeable to the user when worn and provide the ultimate work site flexibility.
The Nano-Lok SRL's are 15 percent lighter and 30 percent smaller than competing products, making them the most compact and lightweight self retracting lifelines on the market. The lightweight design provides the ultimate comfort and productivity, while still being able to protect workers up to 420 lbs.
"Capital Safety continues to enhance and adapt products for the use in application across all industries," said Tim Maroushek, Global Product Director with Capital Safety. "After releasing the new line of Sealed-Blok™ SRL's earlier this year, we saw a need in the field for an extremely lightweight and compact device that can be directly attached to a harness and used in place of lanyards. It is a unique product that will provide solutions across industries." The SRL technology retains tension on the lifeline at all times, keeping it out of the worker's way and reducing dragging, snagging and trip falls. The automatic activating arrester locks quickly to stop falls within inches, reducing free fall distance and providing more protection at lower heights. It also features a unique six- foot web lifeline for added strength.
The new Nano-Lok SRL's have multiple anchorage options. The quick-connect anchorage connector allows the SRL to be attached directly to the back of most harnesses without the requirement of a separate carabiner. Instead of being attached to the D-ring, the SRL attaches to the web, allowing the D-ring to be used for other equipment or rescue. The cab-mount anchorage connector allows the SRL to be attached directly to the cab of the order picker while the swiveling loop provides full range of motion.
The SRL's can also be arranged as a twin-leg SRL providing 100 percent tie-off capabilities. The twin-leg configuration provides continuous fall protection and added mobility when moving from one location to another. This configuration can be used to replace twin-leg shock absorbing lanyards. The quick-connect anchorage connector allows both SRL's to be attached directly to the back of most harnesses.
Capital Safety, one of the world's leading manufacturers of fall protection, confined space and rescue equipment, with 20 operating sites worldwide and a passionate commitment to quality, innovation and safety, is home of the DBI-SALA, PROTECTA and UNILINE brands. All of Capital Safety's fall protection and rescue systems are backed by extensive training, knowledgeable technical assistance and professional customer service. For further information, contact Capital Safety at 800-328-6146, 651-388-8282 or visit them on the web at www.capitalsafety.com