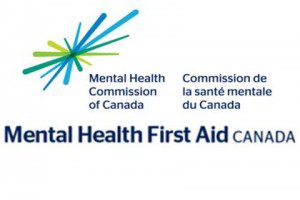 The Mental Health Commission of Canada is asking Canadians to make Mental Health First Aid part of their New Year's resolutions for 2012.
"Mental Health First Aid has the same purpose as traditional first aid – to save lives," said Sandy Allen, Program Director, Mental Health First Aid (Canada). "There are more than 47,000 Canadians to date who have taken the training and we encourage everyone who hasn't to make it their New Year's resolution." Nearly two million Canadians have a diagnosed mental disorder and another 1.6 million have a mental disorder that is undiagnosed. Mental Health First Aid (MHFA) is a training course that teaches participants how to provide initial help for someone developing a mental health problem or experiencing a mental health crisis.
Participants learn about specific mental health problems including signs and symptoms, risk factors, and how to assist the individual in finding professional help.
"Mental health problems are more common than most people realize, especially depression, anxiety and misuse of alcohol and other drugs," Allen said. "The stigma associated with mental health problems often hinders people from seeking help. MHFA Canada teaches people to react in a calm, confident and appropriate way to provide the best help they can."
"This course changes the way participants see people with a mental illness. After taking the Mental Health First Aid course, people have more confidence in their ability to reach out and assist someone who is experiencing a mental health crisis," said Pam Kollross, Mental Health Promoter, Alberta Health Services, who has been a MHFA Canadainstructor for the past four years.
A basic training course is offered as well as a course for people who interact with youth. The cost of the two-day training course varies across the country with an average fee of $150. There are also instructor courses for qualified individuals who want to teach the course. More than 550 Canadians have been trained as MHFA instructors to date.
To find a course in your area, go to www.mentalhealthfirstaid.ca.
The MHFA program was developed by Professors Anthony Jorm and Betty Kitchener from the Centre for Mental Health Research at the Australian National University in 2001. MHFA (Canada) came under the leadership of the Mental Health Commission of Canada in February 2010.
For more information: Call 1-866-989-3985 or email mhfa@mentalhealthcommission.ca.
The Mental Health Commission of Canada (MHCC) is a catalyst for transformative change. Our mission is to work with stakeholders to change the attitudes of Canadians toward mental health problems and to improve services and support. Our goal is to help people who live with mental health problems lead meaningful and productive lives. The Mental Health Commission of Canada is funded by Health Canada. For more information about the MHCC please visitwww.mentalhealthcommission.ca.
For further information:
Contact: 
Kyle Marr, Senior Communication Specialist
Mental Health Commission of Canada
Office: (403) 385-4050
kmarr@mentalhealthcommission.ca