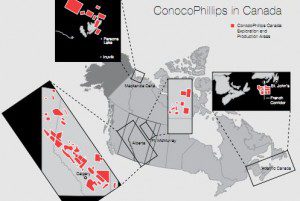 Company Overview 
ConocoPhillips is an international, integrated energy company with operations in more than 30 countries. As the third-largest integrated energy company in the United States and fourth largest refiner in the world, ConocoPhillips' goal is to deliver energy in a safe, environmentally and socially responsible manner.
More than 30,000 ConocoPhillips employees work worldwide to consistently deliver top performance and value to maintain the company's global market position. Employees' individual talents and strengths combine to create a diverse and energized work force within ConocoPhillips. Headquartered in Houston, Texas, ConocoPhillips stock is listed on the New York Stock Exchange under the symbol "COP."
ConocoPhillips Canada (CPC) is one of the country's largest oil and natural gas production and exploration companies. Headquartered in Calgary, Alberta, we are a top three producer of natural gas, with a world-class portfolio of assets in western Canada, the Arctic, Atlantic Canada and oil sands interests near Fort McMurray, Alberta. We are the largest leaseholder in the Athabasca region of the oil sands. With about one million net acres in holdings, CPC is well positioned to become a leading in-situ producer. For information on our Sustainable Development performance, visit http://www.cpcsustainability.ca/
Our story in Canada began over 100 years ago and continues today with our team of over 2,000 full-time employees. We develop our projects in a way that is intended to enhance the economic and social benefit to communities while minimizing the environmental impact associated with development. Together we will continue our journey toward becoming Canada's safest, most respected and most profitable gas and bitumen producer.
Description 
ConocoPhillips Canada has an excellent opportunity for a Process Safety Engineer to contribute to the growth and development of our Surmont operations in the Fort McMurray area. The successful Process Safety Engineer will be an integral member of the construction and engineering team who will be accountable for providing technical safety engineering support to projects and operations for Oil Sands Operations to ensure effective assessment and management of HSE process related risk. The successful candidate will have strong technical process engineering and safety background with experience in proficient practical / hands-on experience of Safety Engineering tools and techniques.
Surmont is a multi-billion dollar steam-assisted gravity drainage (SAGD) mega-project with a construction Phase that started in 2010 for first steam production in 2014. Phase 2 will increase Surmont's average production from 27,000 to 136,000 barrels per day when it reaches full production capacity.
Responsibilities 
Responsible for ensuring that safety engineering aspects are integrated into project life cycle
Manage project design and operational safety engineering support to ensure the identification design hazards, the assessment of the risks and that suitable measures are taken to mitigate risks to an acceptable level
Coordinate and work with others within ConocoPhillips operations and project organizations to support the safety engineering function to manage risk; optimize design and operations; meet applicable codes, regulations etc.; and ConocoPhillips requirements including the CPMS
Review and approve Management of Change requests as required from a safety engineering standpoint for equipment, procedures and organization
Maintain up-to-date knowledge and understanding of applicable governmental and ConocoPhillips, regulations, codes, standards and industry best practices et al.
Develop / revise documentation and tools and provide training to support the safety engineering function
Lead or assist with a variety of studies, including: HAZOPS, PHA; etc.; RCA; audits; and other studies as required
Provide field support to projects construction activities to ensure design requirements are met in the filed.
Support the larger HSE organization in supporting HSE programs and procedures during construction activities.
Support and comply with the policies, goals, efforts, and programs of CPC's Health, Safety and Environmental (HSE) Management System. Ensure HSE issues are given primary consideration in all activities undertaken within area of responsibility. Unsafe acts and/or conditions, no matter in what area of responsibility, are to be reported so corrective actions can be taken
Qualifications:
Basic/Required Qualifications 
Minimum Bachelor's degree in engineering
Minimum 5 years relevant experience in the role of safety engineer within both an engineering / project and operations environment
Alberta Professional Engineer designation or working toward accreditation
Legally authorized to work in Canada on a full time basis without restrictions
Preferred Qualifications 
Proficient practical / hands-on experience of Safety Engineering tools and techniques, comprising PHA (including HAZOP, SILA, LOPA, Facility Siting); MOC; Consequence modeling; QRA; PSM; the ALARP principle; and HSE/Safety Case
Skilled at readily assimilating information, both written (reports, P&IDs, etc.) and verbal, to grasp understanding of design or operating issue and apply unbiased / 'outside-the-box' thought processes to identify credible risk scenarios
An ability to solve technical issues through innovative approaches to safety engineering and risk management solutions and work collaboratively to establish practicable solutions for the business
Strong understanding of governmental and ConocoPhillips, regulations, codes, standards and industry best practices etal.
The individual will need to understand safety engineering as a discipline and be able to communicate the concepts of risk management to improve business unit understanding
Strong oral and written communication skills (in English) with an ability to dialogue with internal and external stakeholders, such as regulators and engineering contractors
Strong leadership with people influencing skills, including an ability to delegate to and draw on specialist technical knowledge as appropriate
Good working knowledge of conventional oil and gas and oil sands design and operations
In order to be considered for this position you must complete the entire application process, which includes answering all prescreening questions and providing your eSignature before the closing date of January 5, 2012.