Fendall 2000™ Heated Accessory Delivers the First Tepid Sterile Solution in Extreme Cold Environments
2011-05-16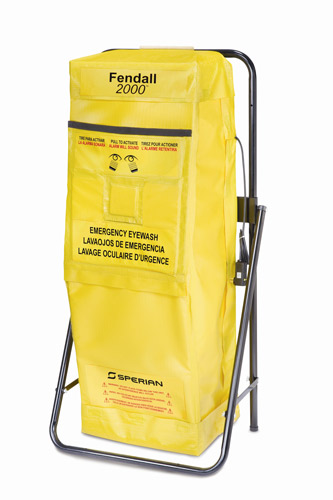 SMITHFIELD, R.I. — May 16, 2011 — Honeywell Safety Products (HSP), a global leader in personal protective equipment (PPE), today introduced the industry's first heated sterile eyewash station. The Fendall 2000™ Heated Accessory offers an innovative solution to the challenges presented by workplace environments that are extremely cold or vary due to seasonal weather changes. Ideal for both indoor and outdoor applications, the portable station delivers unmatched versatility. Approved for use in temperatures as low as -40 degrees Fahrenheit/Celsius, the accessory maintains eyewash solution at a tepid temperature (60 – 100 degrees Fahrenheit) to meet the ANSI Z358.1-2009 standard requirements.
"Now workers can be treated with the safest eyewash station — featuring 100% sterile solution and delivery — in even the coldest environments," said Kelly Piotti, Product Manager of Emergency Eyewash for HSP. "The Fendall 2000 Heated Accessory is one more way Honeywell proves its commitment to elevating workplace safety through innovation."
The Heated Accessory is made of sturdy vinyl for long-lasting wear and is powered by a built-in 110-volt, UL-CSA certified, GFCI-protected heater to deliver the highest level of safety. It utilizes environmentally-friendly heat spreading technology to ensure efficient heat distribution and minimize energy requirements.
The Fendall 2000 features ESP™ Enabled Safety Products RFID technology that provides instant insight into maintenance schedules, helps manage inventory, tracks expiration dates and more using a handheld computer. The station's patented receptacle captures waste fluid to eliminate the risk of spills, and its 85-decibel alarm notifies others of an eyewash emergency. An easy-to-access deactivation button ensures easy maintenance and inspection.
The Fendall 2000 Heated Accessory is available now through Western Safety, a safety equipment distributor, as well as other safety equipment distributors in the U.S. and Canada. Or you may contact the customer care department directly at 800-430-5490(US) or 800-430-5605 (CANADA). More information about the complete family of portable eyewash stations is available at www.sperian.com.
Sperian Protection is now Honeywell.