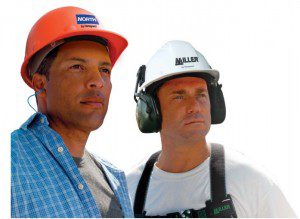 Honeywell Safety Products takes particular pride in bringing to market innovative safety at height solutions represented by these well known and respected brands – North and Miller – that enhance worker safety and productivity, while increasing compliance and lowering overall cost.
Added-Value
Honeywell is committed to providing added-value fall protection equipment and services to those specifying, selecting and using our products. While safety at height is our ultimate goal, enhancing worker comfort and trust are also important qualities that products bearing the North and Miller names have strived to maximize since 1945.
Innovation with a Purpose
North and Miller brands are more than lines of quality products and services. These brands represent innovation, solutions expertise and absolute confidence that your workers will go home at the end of the day to their families safe and healthy.
Setting the Standard
Honeywell continues to build strength as the global force by setting the standard in user-focused safety at height solutions.
Learn more about the North and Miller Fall Protection capabilities and services by reading the Total Solutions brochure:
Download the English North/Miller Total Solutions Brochure
Download the French North/Miller Total Solutions Brochure
Also, visit Fall Protection Vancouver Resources for more informative and educational material for Fall Protection.