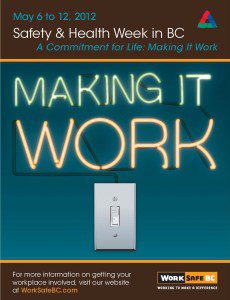 The North American Occupational Safety and Health Week (NAOSH Week) is an annual event where employers, workers, and all partners in occupational health and safety focus on preventing injury and illness in the workplace. It will take place from May 6-12, 2012.
Your workplace can take part by:
Setting new goals for workplace health and safety
Creating awareness of these goals within and outside your organization
Making a plan to accomplish these goals
The WorkSafeBC resource materials can help you plan your involvement using the 2012 NAOSH Week theme: Safety & Health — a Commitment for Life: Making It Work.