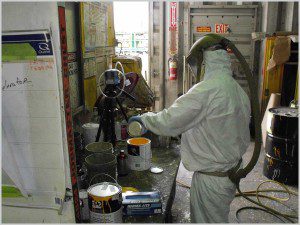 Montréal, November 30, 2011 – The Institut de recherche Robert-Sauvé en santé et en sécurité du travail(IRSST) has just published a new and detailed study of pollutant concentrations in various Quebec industries. For this study, the research was based on four-digit industrial classes found in the Classification des activités économiques du Québec (CAEQ, "Classification of economic activities in Quebec") rather than on large groups. For this purpose, between 2001 and 2008 IRSST researchers examined nearly 360,000 results of environmental tests conducted in its laboratories.
Levels above exposure standards
By considering only the most relevant data, the researchers were able to identify major trends and potential situations with the highest risk for workers. Ultimately, the researchers selected 56 chemicals (encompassing 183 industrial classes) whose levels were frequently equal to or higher than exposure standards. Among the most problematic substances, those for which more than 60% of the laboratory test results exceeded two times the standard included:
Beryllium;
Lead;
Aluminium;
Manganese;
Dust, Not Otherwise Classified;
Wood dust;
Asbestos;
Nicotine.
High exposures
Dust and metals were the contaminants providing the focus for the largest number of tests among those selected by the researchers as relevant. Of the latter, three quarters involved eight substances. These included dust "not otherwise classified", beryllium*, aluminum, welding fumes*, crystalline silica*(quartz), styrene* (monomer), wood dust (hard and soft) and lead*. For five* of these, structured intervention strategies for prevention have been implemented across Quebec in recent years.
For IRSST President and CEO, Marie Larue, "this portrait suggests that workplaces and OHS workers should pay particular attention to worker exposure".
This IRSST study and its annexes may be consulted free of charge: http://www.irsst.qc.ca/en/-irsst-publication-results-chemical-analyses-produced-irsst-2001-2008-r-712.html
Source
Jacques Millette
Manager public affairs and external comm. strategy
IRSST
Information
Claude Ostiguy
Ph. D. chemistry
IRSST